Indian media: PM Modi's 'tough stand' against Pakistan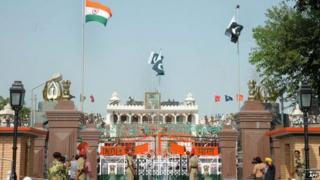 Media in India feel Prime Minister Narendra Modi's decision to cancel scheduled talks with Pakistan shows his "tough" stand against the neighbouring country.
Delhi cancelled foreign secretary-level talks on Monday after Pakistan's envoy to India, Abdul Basit, held a meeting with a Kashmiri separatist leader.
Indian Foreign Secretary Sujatha Singh was due to travel to Islamabad on 25 August to hold talks with her Pakistani counterpart Aizaz Chaudhry.
The Kashmir issue continues to remain a sore point between the two countries with India accusing Pakistan of interfering in its internal affairs.
The Hindustan Times feels Mr Modi has set "new rules" by refusing to overlook Pakistan's engagements with the separatists.
"In the past, India gave Pakistan free pass on such provocations to preserve a peace process," the paper says.
The Times of India says that "previous governments preferred to overlook these meetings. Mr Modi has signalled he will not".
The cancelation of talks, however, means a blow to renewed peace efforts initiated by Mr Modi.
He had invited Pakistan Prime Minister Nawaz Sharif, along with other South Asian leaders, to his inauguration ceremony in May.
The Hindustan Times adds that Mr Modi has now set some "red lines" in bilateral ties.
"It was a myth that PM Modi was eager for deeper engagement with Pakistan. He wanted a relationship, but one marked by clear red lines and with minimal leeway for Islamabad. Pakistani high commissioner Abdul Basit crossed one of those lines," the paper says.
Echoing similar thoughts, The Indian Express says Mr Modi's government has "unveiled its diplomatic vocabulary by cancelling the foreign secretary-level talks."
The Times of India suggests that upcoming elections in Indian-administered Kashmir may have been a factor in India's decision to cancel the talks.
"At this point, the PMO (Prime Minister's Office) reckoned that India could not be seen to be making nice with Pakistan when much of the instigation for violence and disruption [during elections in Indian-administered Kashmir] would be coming from across the border," the paper says.
Parsi New Year
In domestic news, the business community has positively responded to Mr Modi's call for support to improve hygiene standards in the country.
Software services provider Tata Consultancy Services (TCS) and the Bharati Foundation have decided to contribute 1bn rupees ($16.46m; £9.8m) each for building toilets in rural India, The Indian Express reports.
Mr Modi had lamented the lack of separate toilets for girls in rural schools during his Independence Day speech on 15 August.
"This significant investment in school sanitation will help children, especially girl students, to participate in school education for a longer period of time and play a larger economic role in their communities," the paper quotes the TCS as saying in a statement.
And finally, India's minority Parsi (Zoroastrian) community celebrated Nawroz (Parsi New Year) on Monday, The Hindu reported.
Members of the community attended a gathering in Delhi to celebrate the festival, the paper said.
BBC Monitoring reports and analyses news from TV, radio, web and print media around the world. For more reports from BBC Monitoring, click here. You can follow BBC Monitoring on Twitter and Facebook.