Telangana: New India state holds controversial survey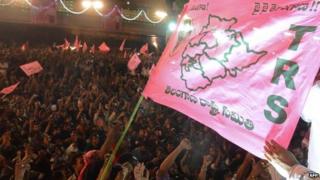 A controversial door-to-door survey is being carried out in India's newest state of Telangana to identify who qualifies for state welfare schemes.
The state government has declared a holiday on Tuesday and taken public transport off the road for the operation.
Authorities say the survey will help them weed out names of bogus claimants.
But critics say the exercise is ethnic profiling and will be used against those who are not native to Telangana.
The "Intensive Household Survey" is really an attempt by the Telangana government to exclude the names of people from Andhra Pradesh, they say.
Telangana Chief Minister K Chandrasekhar Rao has denied the allegation
In May, the southern state of Andhra Pradesh was formally split in two, and Telangana was carved out of its northern areas to become India's 29th state.
With a population of 35 million, it comprises 10 former districts of Andhra Pradesh and the city of Hyderabad.
The move followed prolonged protests by residents of Telangana, who felt the region had long been neglected.
Hyderabad, home to many major information technology and pharmaceutical companies, will form the joint capital of the two states for the next 10 years after which it will become part of Telangana and Andhra Pradesh will have to develop its own capital.