Indian media: Damages caused by floods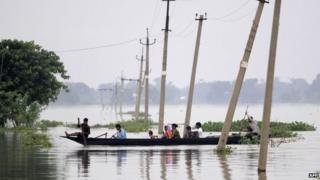 Rain-triggered floods have killed dozens of people and displaced thousands in several parts of northern India, papers report.
Incessant rains have caused rivers to overflow in Uttar Pradesh, Bihar, Uttarakhand and Himachal Pradesh states.
At least 28 people have died and thousands have been displaced in northern Uttar Pradesh (UP) state.
"In UP, floods have affected the lives of over 300,000 people in 1,500 villages," The Times of India reports.
The federal government said the flood situation was unprecedented this year.
"As Rapti, Saryu and Ghagra rivers continue to flow above the danger mark, the centre [federal government] has upgraded its flood alert level," the paper reports.
Two people have been killed in the neighbouring Bihar state, the Hindustan Times reports.
"In Bihar, the state government launched efforts to rescue nearly 400,000 people affected by the floods," the paper says.
Disaster relief teams and the army have been deployed to carry out rescue missions in the Himalayan states of Himachal Pradesh and Uttarakhand.
Heavy rains and floods have also impacted the north-eastern states of Assam and Arunachal Pradesh.
'Make in India'
Meanwhile, papers have welcomed Prime Minister Narendra Modi's invitation to foreign manufacturers.
"Mr Modi got it dead right in his Independence Day speech, that providing jobs to India's youth demands promoting its manufacturing sector," The Times of India says.
The paper, however, adds that the government must get rid of India's infamous "red tape" and "clearance logjams" that discourage new investors.
The Asian Age sees the government working towards turning Mr Modi's "Come, Make in India" call into a reality.
"It was no mere rhetoric: the government is learnt to be working on a plan to make it mandatory for over 19,000 products to have Bureau of Industrial Standards (BIS) labels," the paper says.
"This is a brilliant, strategic move on the government's part, and if it is implemented properly it will not only boost India's exports by making more items acceptable in international markets, it will also help cut down imports of the same products," the paper adds.
And finally, the chief minister of the western state of Goa, Manohar Parrikar, on Saturday shared a meal with HIV-afflicted children in an orphanage to raise awareness about the disease, the First Post website reports.
Mr Parrikar's gesture was aimed at fighting social stigma surrounding HIV patients in India.
"Mr Parrikar along with 40 orphans, nuns and other orphanage workers, dug into a common buffet laid out in the orphanage's dining area," the website says.
BBC Monitoring reports and analyses news from TV, radio, web and print media around the world. For more reports from BBC Monitoring, click here. You can follow BBC Monitoring on Twitter and Facebook.