Cricket: Watching India crumble against England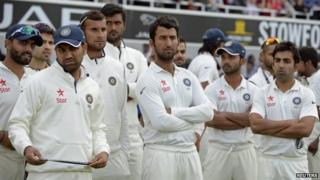 When my US-based sons and I planned, with great excitement, to meet halfway in London for some bonding time after the budget session of parliament, we chose the week of the Oval Test between India and England as the perfect setting for our holiday together.
The final match of a series in which a young and promising new-look Indian team would be taking on a dispirited and jaded England side recently defeated by Sri Lanka seemed to afford a great opportunity for sporting entertainment, celebratory chauvinism and father-son communion.
It didn't quite turn out that way.
We had feared the English weather would, as it so often does, play havoc with our plans. It didn't. The Indian side did.
In a display as inept and baffling as is possible to imagine even in a game whose best-known cliché speaks of "glorious uncertainties", the much-touted new young heroes of Indian cricket managed to collapse so abjectly as to render the Test a non-contest, completed in a mere two and a half days.
When we had confirmed our air tickets, India were 1-0 up after a convincing win at Lord's. By the time we arrived at the Oval, that had dissipated into a 1-2 setback, following two defeats, one worse than the other, that had already begun evoking memories of the humiliating whitewash in the English summer of 2011.
It wasn't meant to be that way.
The English team was in the doldrums; after defeats to Australia and Sri Lanka, the loss at Lord's had led to calls for the axing of the captain, Alastair Cook, and a wholesale revamp of the team and even of the very structure of English cricket. It was said that Cook was only surviving into the next Test for lack of evident alternatives.
India's collapse
The Indians, on the other hand, hadn't won a Test for three years outside of the familiar grounds of the subcontinent. Victory at Lord's seemed to mark a definitive turnaround for captain Mahendra Singh Dhoni and his merry young men.
The Third Test at the Ageas Bowl in Southampton seemed about to confirm this when, soon after winning the toss and electing to bat in helpful conditions, Cook snicked debutant Indian paceman Pankaj Singh into the normally safe hands of Ravindra Jadeja.
Had Jadeja held on, as he would have been expected to do nine times out of 10, Cook would have been dismissed cheaply yet again, English morale would have plummeted, and a re-run of the Lord's saga might have played out.
Instead, Jadeja let the ball pop out of his hands, and a relieved Cook - abetted by another reprieve later in his innings - went on to score a confidence-restoring 95.
Centuries from Ballance and Bell followed, seven of India's top eight batsmen crossed 20 but failed to pass 54, and in their second innings, collapsed to concede defeat by 266 runs and level the series.
Worse was to follow in the next Test, at Old Trafford, where England achieved its second consecutive Test win by an innings and 54 runs.
India's young stalwarts had literally gone from heroes to zeroes in the space of a fortnight, six of the batsmen scoring ducks, thereby equalling a dubious world record.
My sons and I arrived at the Oval in hope of witnessing a resurrection. We did: of Cook's reputation as leader and batsman. From India, all we got was disappointment.
Virat Kohli and Cheteshwar Pujara were the two batsmen who had justifiably been hailed as the future of Indian cricket, worthy heirs to Rahul Dravid and Sachin Tendulkar respectively at numbers three and four in the batting order.
In this series, Pujara began well enough with 38 and 55 in the First Test at Trent Bridge. Thereafter, his scores read 28, 43, 24, 2, 0, 17, 4 and 11. Kohli has been even worse: he had no redeeming half-century, just a dismal sequence of 1, 8, 25, 0, 39, 28, 0, 7, 6 and 20. Bhuvneshwar Kumar, batting at number nine, ended the series with a higher aggregate than either of them.
'Batting failures'
Yes, some excuses are available.
India have had the worst of the toss and the weather, three times having to bat first in conditions ideal for the pacy English swing bowlers. At the Oval, the perversity of Mother Nature condemned India to facing near-wintry conditions on the opening day; the sun broke through obligingly in time for England to make hay, and then the clouds returned just in time to aid the English seamers at the start of the Indian second innings.
But that alone cannot explain the sheer repetitiveness of India's batting failures.
To be dismissed for fewer than 200 runs once or twice might be a misfortune; five times in a row looks like carelessness, if not downright ineptitude. Since the second innings at Southampton, their scores in the series read 178, 152, 161, 148 and 94, a sequence India have not paralleled in the last four decades.
Contrast this to the performance of their opponents, and embarrassment turns to shame, for each trouncing has been worse than the preceding one: by 266 runs in Southampton's Ageas Bowl, by an innings and 54 runs in Manchester's Old Trafford, and humiliatingly by an innings and 244 runs at London's The Oval.
And yet: are those wailing and gnashing their teeth, including my sons and me, being entirely fair?
After all, when I previewed the series two months ago, I wrote: "Today's Test team is in the early stages of rebuilding after the departure of those superstars, and may not fare much better than their predecessors in 2011, who lost all four Tests, undone by English speed and swing in cold and blustery conditions."
All that Dhoni's men have done, after all, is to live up to my predictions.
Still, in our hearts Indian fans expected better. They expected more of a fight than the ageing warriors of 2011 were able to put up; more courage, more confidence, more talent than they in fact displayed.
The victory at Lord's had raised hopes that our old fears were misplaced, and that redemption had arrived. The feeble collapses in the second half of the series dashed those hopes.
Now Dhoni returns to more familiar territory, as his team, reinforced by fresh arrivals from India, embark on ODIs and T20s, which demand less stamina, less concentration and less application than Tests.
If India does better, as most expect, its fans will forget the disaster that concluded at the Oval. My sons and I, forlornly clutching unused tickets for the last two scheduled days of play there, will not be as forgiving.