Indian media: PM Modi's Pakistan remarks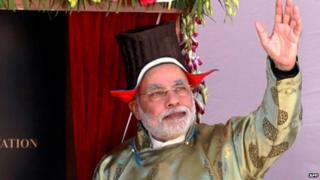 Media in India are discussing Prime Minister Narendra Modi's "sharp attack" on Pakistan during his visit to Indian-administered Kashmir.
Mr Modi visited the town of Leh on Tuesday to inaugurate a hydroelectric project.
While addressing the army and air force in Leh, Mr Modi accused Pakistan of waging a "proxy war" against India.
"Mr Modi's tough talk came ahead of the foreign secretaries meeting in Islamabad on 25 August," the Hindustan Times notes.
The paper feels that Mr Modi's remark is likely to affect the peace initiative with Pakistan.
Another report in the paper says Mr Modi's comment "is unlikely to go down well in Islamabad at a time when the two governments are ostensibly trying to revive a sluggish peace dialogue".
The Indian Express also notes that the Indian PM's "sharp attack" comes in the wake of Mr Modi's own peace initiatives.
Mr Modi had invited SAARC (South Asian Association for Regional Cooperation) leaders, including Pakistan Prime Minister Nawaz Sharif, to his oath-taking ceremony earlier this year.
This was Mr Modi's second visit to the state after he took oath in May this year.
Some papers suggest the PM has visited the state again in preparation for the upcoming assembly elections.
Row over room
News that the US has overtaken Russia as India's biggest arms supplier was reported on the India Today website.
Defence Minister Arun Jaitley on Tuesday told parliament that "almost 40% of the money spent by India on defence imports in the past three years have gone to the Americans, followed by the Russians (30%) and the French (14%)", the website reports.
"The US rise to the number one position is after a series of deals inked mostly in the aviation sector. The largest has been the deal for C-17 transporter aircraft at 4.7bn dollars followed by a contract for P-8I maritime reconnaissance aircraft and additional orders for C-130 J special operations aircraft," the website adds.
And finally, President Pranab Mukherjee gave "outstanding parliamentarian" awards to three Indian politicians on Tuesday at a special event, The Times of India reports.
"Arun Jaitley, Karan Singh and Sharad Yadav got the award for 2010, 2011 and 2012 respectively," the paper says.
Contrary to the spirit of the event, MPs from two regional parties - Trinamool Congress (TMC) and Telugu Desam Party (TDP) - earlier got into a row over a room in the Parliament House, reports say.
"The bone of contention is Room No. 5 on the first floor, which had been occupied by the Andhra Pradesh party (TDP) for many years but was allotted to the Mamata Banerjee-led outfit (TMC) on 6 August," the Hindustan Times says."
BBC Monitoring reports and analyses news from TV, radio, web and print media around the world. For more reports from BBC Monitoring, click here. You can follow BBC Monitoring on Twitter and Facebook.