Indian media discuss a "grand political alliance" in Bihar state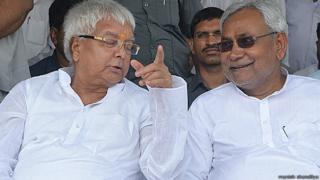 Media discuss an "unexpected alliance" between two regional parties against the ruling Bharatiya Janata Party (BJP) in the upcoming by-elections in eastern Bihar state.
Lalu Prasad Yadav, former federal railways minister and the leader of the Rashtriya Janta Dal (RJD), has formed a bloc with his rival Nitish Kumar of the Janta Dal-United (JD-U) party.
Nitish Kumar announced the formation of the alliance on Monday in the presence of Mr Prasad.
Both regional parties suffered humiliating defeats at the hands of the BJP in the general elections earlier this year.
The BJP and its allies won 31 out of the 40 Lok Sabha (lower house of the parliament) seats in Bihar, while the RJD won four and the JD-U could secure only two seats.
Newspapers, however, highlight the enmity between the two regional leaders.
"Socially and economically, JD-U leader Nitish and RJD chief Lalu represent two equal and powerful caste groupings. They have been rivals - socially and politically - and even inimical," the Hindustan Times says.
The paper wonders if the "grand alliance" will be "enough to tame the BJP-led National Democratic Alliance in Bihar" and cautions that a failure would mean the "political demise" of both the leaders.
The Times of India points out that the two leaders have been forced to join hands due to "electoral compulsions".
"Guided by electoral compulsions more than perhaps a genuine appreciation of each other, Nitish and Lalu hugged each other on the stage, held each other's raised hands, and berated the BJP," the paper says.
The paper adds that the event at Hajipur, near Bihar's capital Patna, was a "flop show" as "only a few hundred people turned up" to see the two rivals unite.
"The poor turnout was a pointer to the problems the combo is likely to face in the days ahead in selling the reunion to the people," the paper says.
Red Fort speech
Staying with domestic news, close to 10,000 people will be allowed to attend Prime Minister Narendra Modi's Independence Day speech at the Red Fort on 15 August, The Times of India reports.
"For the first time, Independence Day celebrations at the Red Fort won't be the usual ceremonial affair. The BJP-led union government has decided to invite the general public to participate in the event," the paper says.
And finally, former foreign minister minister Jaswant Singh continues to remain critical in a Delhi hospital, The Times of India reports.
The 76-year-old was admitted to the hospital on 8 August after he fell in his house and suffered severe head injuries.
BBC Monitoring reports and analyses news from TV, radio, web and print media around the world. For more reports from BBC Monitoring, click here. You can follow BBC Monitoring on Twitter and Facebook.