Indian media: Ebola concerns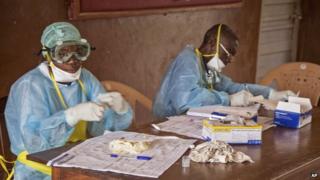 Media in India are discussing the government's preparedness against the deadly Ebola virus that has killed nearly 1,000 people in West Africa.
The Ebola outbreak - the worst-ever - is centred on Liberia, Sierra Leone and Guinea, but has spread to other countries in recent months.
India has started screening passengers arriving from West African countries affected as a safety measure, the First Post website reports.
The government is on "high alert" and has set up help-lines for people with queries on the deadly virus, the website adds.
The Hindu says the government needs to be prepared as many Indian nationals living in West Africa may return home due to Ebola fears.
"India has its task cut out as nearly 5,000 Indians who live in Guinea, Liberia and Sierra Leone and about 40,000 in Nigeria may return here," the paper says.
It adds that the "the union health minister has held out the assurance that the ministry has put into operation the most advanced surveillance and tracking systems".
Meanwhile, a 25-year-old man in the southern city of Chennai has been discharged from a local hospital after tests showed no signs of Ebola, The Times of India reports.
"Doctors at the hospital said the man showed no symptoms of being infected and all his vitals were normal," the paper reports.
The man had arrived in Chennai from Guinea on Saturday and had approached authorities to be tested for the virus.
The Ebola virus spreads through blood, sweat, semen, vomit, urine and saliva.
Delhi in the news
Delhi police have started using instant messaging platform WhatsApp to discipline policemen, the India Today website reports.
Locals can send an instant message to the Delhi police if any official seeks bribe or misbehaves, the website reports.
"The new helpline was launched on 6 August and the response so far has been encouraging. People can do a sort of sting operation and send the audio or video clip on this number via WhatsApp," the website quotes senior police officer Sindhu Pillai as saying.
The Delhi government has also planned a week-long cultural festival in the run-up to India's Independence Day.
Music and dance programmes will take place at different locations in the city, starting from 13 August, as part of the "Jashn e Azadi" [Celebrating Freedom] festival, the Hindustan Times reports.
"As part of the celebrations, directed by Lieutenant Governor of Delhi Najeeb Jung, the departments of art, culture, languages and tourism have planned a number of activities and events in the capital in collaboration with Sahitya Kala Parishad, Delhi Tourism and Transportation Development Corporation Limited and various language academies," the paper says.
India got independence from Britain on 15 August 1947.
BBC Monitoring reports and analyses news from TV, radio, web and print media around the world. For more reports from BBC Monitoring, click here. You can follow BBC Monitoring on Twitter and Facebook.