India landslide toll climbs to 109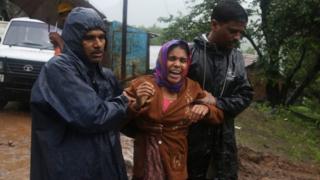 The death toll from a landslide that buried a village in western India last week has climbed to 109, officials say.
Rescue workers looking for survivors continued to dig through mud in Malin village near Pune in Maharashtra state.
The landslide hit the village early on Wednesday while people were sleeping. Eight people were rescued alive.
A large part of a hill collapsed on Malin. Its population of about 160 tribal people were covered with tonnes of loose earth, mud and rocks.
By Friday, rescue workers had reached the main inhabited area, but officials said chances of finding anyone alive in the rubble were slim.
On Monday, officials said about 50 people were still believed to be trapped under the rubble and rescuers were working through intermittent showers to find them.
The 109 dead include 44 men, 49 women and 16 children, the Press Trust of India quoted district administration officials as saying on Monday.
Carcasses of 22 animals have also been extricated from the debris, they said.
Relatives of those still missing were continuing to wait at the site, hoping and praying for a miracle.
The disaster in Malin came to light when a bus passed by and the driver saw that the village had disappeared under masses of mud and earth, officials said.
Rescue operations were disrupted several times last week due to "very heavy rainfall" in the area.
Landslides are common in some parts of India during the monsoon, which runs from June to September.
More than 500 people died and several thousand people were listed as missing after floods and landslides hit the northern state of Uttarakhand in June last year.