Thousands evacuated over flood fears in India's Bihar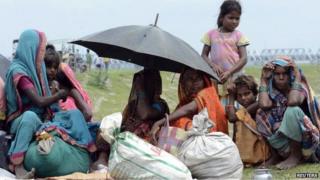 Authorities in India have evacuated 60,000 people in the northern state of Bihar amid fears of flash floods from Nepal, officials say.
Water levels in the Kosi river, which begins in Nepal, have risen steeply. A landslide there on Saturday killed 19 and left scores missing.
Officials say a huge amount of water has accumulated in a lake-like formation on the Nepal side.
Nearly 400 died in Bihar in 2008 after the Kosi burst its banks in Nepal.
Officials said Saturday's landslide had created a mud wall that was blocking the Sunkoshi river which flows downstream into the Kosi.
On Sunday, the Nepalese army carried out controlled explosions to knock down part of the earth wall, allowing some water to flow out but much of it remained trapped.
Officials said the situation in Bihar was "not alarming" but this water could inundate villages and farms if the dam across the border suddenly broke.
"It would affect a large part of the state and may hit hundreds of thousands of people," news agency AFP quoted Vyasji Mishra, principal secretary of Bihar's disaster management department, as saying.
Disaster response teams and boats had been deployed for rescue operations with six military helicopters and navy diving teams on standby, the Indian government said in a statement.
Doctors and medical equipment were being sent to the state.
Prime Minister Narendra Modi, who is visiting Nepal, "expressed concern" over the possible flooding and "directed that all possible assistance should be made available", the statement added.
'Very scared'
As a precautionary measure, villagers living along the Kosi river have been moved to 107 shelters set up by the government.
"Ours is a small village with few hundred people. Water entered our homes so we had to evacuate. I have been lucky to get my goats along. We are very scared. It reminds me of 2008 when we were hit by terrible floods," Mithilesh Das told BBC Hindi.
"My village is completely under water. My house, my cattle - I have lost everything. My family is safe but I don't know what will happen now. I have lost everything. How will we live? I wonder why the river is so furious?" said Rekha Devi of Saharsa district.
Meanwhile, rescue operations are continuing in northern Nepal where more than 150 people are still believed trapped under the rubble.
Piles of rock and mud fell on dozens of homes in Mankha village, about 120km (75 miles) east of Nepal's capital Kathmandu on Saturday morning.
In some places, bulldozers and excavators were being used to dig through the debris.
Officials, however, say chances of find anyone alive are slim.
"We have no chance of finding any of the missing people alive under this pile of debris," Associated Press quoted Yadav Prasad Koirala, head of the Department of Natural Disaster Management, as saying.
"We have the names of 159 people who are believed to be missing and buried, but there could be even more people," he added.