Indian media: Washington ties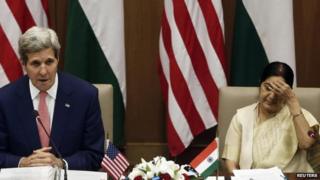 Media in India feel that US Secretary of State John Kerry's ongoing visit is a positive step towards reviving Delhi-Washington ties.
Relations between India and the US have been rocky in recent months.
It is Mr Kerry's first visit to Delhi since a row between the two countries over the arrest and brief jailing of an Indian diplomat in New York.
Devyani Khobragade, an official in the New York consulate, was arrested in December on a visa fraud charge after she was accused of underpaying her housekeeper and lying about it on immigration forms. She later left the US.
India has also raised concerns over reports that the US spied on global leaders including German Chancellor Angela Merkel.
In their public pronouncements, both Mr Kerry and Indian Foreign Minister Sushma Swaraj sounded confident about improving ties in the near future.
"The moment has never been more ripe to deliver on the incredible possibilities in the relationship between our two nations," Mr Kerry said.
The two countries were at "an important turning point" and they shared "converging long-term strategic interests", Ms Swaraj added.
But papers feel that Delhi and Washington have much work to do to "realise the full potential" of the bilateral ties.
The talks "were overshadowed by a dispute over India's opposition to a world trade pact and a new expression of Indian irritation over US surveillance activity", The Economic Times reports.
India has repeatedly stalled a WTO deal, disappointing US officials.
The Trade Facilitation Agreement to streamline global customs procedures should have been finalised in July, but it has been blocked over a number of rifts, including India's demands for concessions on the stockpiling of food.
The First Post website says that "fresh rifts over trade and spying cast a shadow" on bilateral ties.
The DNA website echoes similar views, saying though the two countries stressed their desire to boost business and defence ties, "trade and spying rows were a reminder of the obstacles to President Barack Obama's vision of a 'defining' partnership".
'E-rickshaw ban'
Meanwhile, a court has ordered the Delhi government to stop battery-operated e-rickshaws from the capital's roads.
The court has asked the government "to form a policy guideline on e-rickshaws, the CNN-IBN website reports.
The court order came after a child's death earlier in the week was blamed on "reckless driving" by an e-rickshaw driver.
"A three-year-old boy fell into a huge pot of boiling sugar syrup after being hit by a speeding e-rickshaw," the report says.
"As far as the present situation is concerned, the plying of e-rickshaws is illegal. Delhi government must ban plying of e-rickshaws without fail. Unregulated plying of these vehicles on roads of Delhi prima facie is hazardous to other traffic as well as to citizens," The Times of India quotes the court as saying.
The court was hearing a petition filed by social worker Shanawaz Khan. "While they operate on a power output of 650-850 watts and are designed to ferry only four people, they routinely carry up to 8-10 persons, endangering lives," Mr Khan said.
BBC Monitoring reports and analyses news from TV, radio, web and print media around the world. For more reports from BBC Monitoring, click here. You can follow BBC Monitoring on Twitter and Facebook.