John Kerry visits to improve US-India ties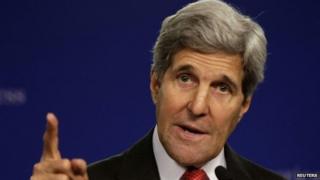 US Secretary of State John Kerry is to begin a visit to Delhi as Washington tries to improve ties with India under its new PM Narendra Modi.
Ahead of the visit, Mr Kerry said India and the US could cooperate on a wide range of economic and strategic issues.
Relations between India and the US have been rocky in recent months.
It is Mr Kerry first visit to Delhi since a row between the two countries over the arrest and brief jailing of an Indian diplomat in New York.
Devyani Khobragade, an official in the New York consulate, was arrested in December on a visa fraud charge after she was accused of underpaying her housekeeper and lying about it on immigration forms. She later left the US.
In March, the US ambassador to India Nancy Powell quit amid speculation that it had something to do with the row, although the state department denied it.
"The United States and India can and should be indispensable partners for the 21st Century, and that is, I assure you, the way we approach the Modi government," Mr Kerry said in an address to the Centre for American Progress, a think tank, on Monday in Washington.
"India's new government has won a historic mandate to deliver change and reform and, together, we have a singular opportunity to help India to be able to meet that challenge," he added.
During his three-day visit, Mr Kerry would be accompanied by Commerce Secretary Penny Pritzker who said she would talk to India about linking with Southeast Asia's dynamic economies to become "the heart of a more connected, prosperous region", reported AFP.
Mr Modi, who led his Bharatiya Janata Party to a sweeping win in India's recent general election, was denied a US visa for many years over allegations that he did not do enough to stop the 2002 anti-Muslim riots in the western state of Gujarat while he was the chief minister there.
Mr Modi has never been charged and has always denied any wrongdoing. He was also cleared by a special panel set up by India's Supreme Court, although critics allege that the panel was severely compromised.
But after the BJP's landslide win, President Barack Obama called Mr Modi and invited him for a visit and, according to reports, Mr Modi is due to travel to Washington in September.