Media cheer India's 'superb start' at Glasgow Games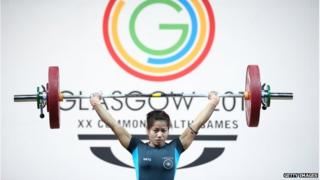 Media are celebrating India's "rollicking start" at the 20th Commonwealth Games in Glasgow on Thursday.
India won a total of seven medals on the opening day with weightlifters Sukhen Dey and K Sanjita Chanu securing a gold each in weightlifting.
Weightlifting proved to be the most profitable event for India on the first day as Saikhom Mirabai Chanu won a silver and Ganaesh Mali bagged a bronze .
In judo, Navjot Chana and Shushila Likmabam won a silver each, while Kalpana Thoudam secured a bronze.
India's impressive performance on the first day of the event has made top headlines in most media outlets.
"India starts with a bang!" says the Mail Today's headline.
The NDTV website also praises the country's performance.
The Games "started on a rousing note for the Indian contingent as they had an early haul of medals on the first day", it says.
Echoing similar sentiments, The Times of India report said that the two weightlifters won the weightlifting medals "in a display of overwhelming domination to open India's medal account on the opening day of the competition".
'Indian...till end of my life'
Staying with sports, papers are criticising a legislator for raising questions over the appointment of tennis star Sania Mirza as brand ambassador of the newly created Telangana state because she is married to a Pakistani.
K Laxman, from the ruling BJP party, said Mirza's marriage to cricketer Shoaib Malik had made her a "daughter-in-law" of Pakistan.
The tennis star, who was appointed the state's brand ambassador on Tuesday, responded by saying she is "an Indian and will remain so until the end of my life".
"Sania's popularity took no hit from her 2010 marriage to a Pakistani cricketer. Hyderabad celebrates her wins no less today than it did then. Fans across the country don't think her Indianness has gotten mysteriously diluted. She continues to represent all of us internationally," says The Times of India.
The Hindustan Times also says that the state BJP's opposition to Sania Mirza's appointment was "needless".
"The objection is nothing but a desperate attempt to fan jingoistic passions and make political capital out of it….It also shows the disrespect that politician…has for the sportsperson of Mirza's stature," it says.
The BJP, however, later issued a clarification, saying it did not agree with Mr Laxman's statement.
And finally, India's ranking in the United Nation's Human Development Index (HDI) "has remained unchanged at 135 in 2013, reflecting little improvement in the living standard of its people", according to the UN report.
India is ranked at 135, among the 'medium development' countries like Egypt, South Africa, Mongolia, Philippines and Indonesia, The Times of India reports.
BBC Monitoring reports and analyses news from TV, radio, web and print media around the world. For more reports from BBC Monitoring, click here. You can follow BBC Monitoring on Twitter and Facebook.