Indian media: 'Good times' budget?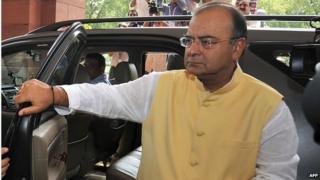 Media are abuzz with comment about the first budget of the new Indian government.
Opinion, however, ranges from praise for Finance Minister Arun Jaitley, to accusations that he lacks a clear vision of how to revive the economy.
The budget, announced in parliament on Thursday, promises to bring back higher growth, and puts an emphasis on building the country's infrastructure, tax reforms and increasing foreign investment.
"New middle class finds a willing backer," announces The Hindu.
"Smart cities, promotion of affordable housing, healthcare benefits, tax relief, incentives on savings, there are several measures in the Budget that this class will find helpful. These measures will also expand the size of this constituency, which the [ruling] BJP hopes will remain with it," the paper explains.
Writing in The Indian Express, Pratap Bhanu Mehta says the budget is a "deep disappointment...[and] clearly does not have a framework for growth or for curbing inflation".
"When Narendra Modi took office, even some of his supporters conceded that his strength was thinking in terms of projects, not policy. The government would be more comfortable thinking about hardware not software. This budget reflects that, except that most projects are half-baked," Mr Mehta writes.
"Budget aims for achche din [good times] but does it work for aam aadmi [common man]?" asks Rajesh Mahapatra in the Hindustan Times.
He feels that the government's financial plan "comes across as lacking in substantial and credible measures to tackle such primary concerns as high inflation and shrinking jobs".
Writing in the Deccan Chronicle, Mohan Guruswamy recalls BJP's election promise of achieving breakout growth.
"Instead of a new roadmap towards this vision, we got another business as usual Budget," he exclaims.
But Dharmakirti Joshi cautions in The Times of India that "there is simply no magic wand".
"Priority No 1 for the government, therefore, was to take steps to gradually repair and revive the economy, so that it has the ability to shift to the fast lane somewhere in the medium term," he explains.
The Pioneer agrees. In its editorial, the daily says that the budget "provides a roadmap for the revival of a floundering economy not just with proposals that seek to incentivise infrastructure growth… but also by the creation of a strong foundation through enhancements in higher education and skill development".
Meanwhile, a new UN report says that the Indian capital, Delhi, with its 25 million people, is the most populous city in the world after Tokyo, which has 38 million inhabitants.
The Asian Age says that other cities in the list are Shanghai with 23 million, and Mexico City, Mumbai and São Paulo, each with around 21 million inhabitants.
According to the report, by 2050, India is likely to add 404 million urban dwellers, China 292 million and Nigeria 212 million. This will account for "37% of the projected growth of the world's urban population between 2014 and 2050," says the UN.
BBC Monitoring reports and analyses news from TV, radio, web and print media around the world. For more reports from BBC Monitoring, click here. You can follow BBC Monitoring on Twitter and Facebook.