India gang rapes: Bodies of teenage cousins 'to be exhumed'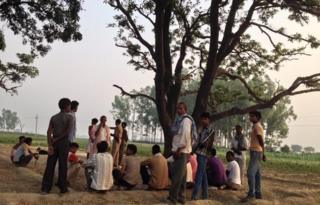 Police in India say they will exhume the bodies of two teenage cousins who were gang-raped and murdered in May for a fresh autopsy, media reports say.
The girls, who belonged to a low caste, were found hanged from a tree in Uttar Pradesh state in a case that caused global outrage.
The father of one victim alleged that he was ridiculed by police when he sought help in finding his daughter.
Three suspected attackers and two policemen were taken into custody.
The case was initially investigated by the state police, but it was later handed over to the federal police, the Central Bureau of Investigation (CBI).
Caste divisions
Since taking over the case, CBI officials have conducted lie-detector tests on the accused as well as the fathers of the two girls.
The cousins, aged 14 and 16, went missing in Badaun district on the night of 27 May after they went out to relieve themselves as they had no toilet at home.
Their bodies were discovered the following day. A post-mortem examination confirmed multiple sexual assaults and death due to hanging.
The victims' families say it took police more than 12 hours to respond to reports they were missing because they are from a lower caste.
Divisions between India's castes run deep, and violence is often used by upper castes to instil fear in lower castes, correspondents say.
Although both the victim and the accused in the latest case belonged to a group known as "Other Backward Classes", the victims were lower in that hierarchy.
Scrutiny of sexual violence in India has grown since the 2012 gang rape and murder of a student on a Delhi bus.
The government tightened laws on sexual violence last year after widespread protests following the attack.
Fast-track courts were brought to the fore to deal with rape, and the death penalty was also brought in for the most extreme cases.
Some women's groups argue that the low conviction rate for rape should be challenged with more effective policing rather than heavier sentences.
---
Rape cases that have shocked India
23 January 2014: Thirteen men held in West Bengal in connection with the gang rape of a woman, allegedly on orders of village elders who objected to her relationship with a man
4 April 2014: A court sentences three men to hang for raping a 23-year-old photojournalist in Mumbai last year
15 January 2014: A Danish woman is allegedly gang raped after losing her way near her hotel in Delhi
17 September 2013 : Five youths held in Assam for allegedly gang-raping a 10-year-old girl
4 June 2013: A 30-year-old American woman gang-raped in Himachal Pradesh
30 April 2013: A five-year-old girl dies two weeks after being raped in Madhya Pradesh
16 December 2012: Student gang raped on Delhi bus, sparking nationwide protests and outrage
---