India parliament key budget session begins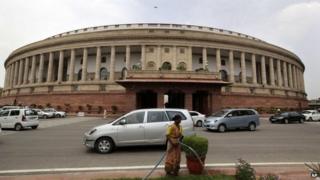 India's parliament has begun a budget session where the new government is expected to face questions on measures to revive a slowing economy.
The government, led by Prime Minister Narendra Modi, will present the federal budget on Thursday.
India's economic expansion has slowed markedly, growing by 4.7% in the 2013-14 financial year and marking the second year of sub-5% growth.
Mr Modi's government has promised reforms aimed at creating jobs.
Media reports suggest that the federal budget may include measures designed to simplify taxation, reduce inflation and attract private investment.
The government has also spoken about its plans to introduce a general sales tax, encourage foreign investment and speed up approvals for major business projects.
The session began on a stormy note on Monday morning with opposition parties protesting against rising prices and a recent increase in railway passenger fares, a BBC correspondent in Delhi reports.
The Lok Sabha - the lower house of the parliament - has already been adjourned twice with slogan shouting MPs refusing to let any business be transacted, our correspondent adds.
The opposition is also expected to raise the controversial rejection of the appointment of former Solicitor General Gopal Subramanium as a judge of the country's Supreme Court.
"The budget session will have 28 sittings and 168 working hours... Government is willing to give full time to discuss any issue," Speaker Sumitra Mahajan said ahead of the session.
The Indian Express newspaper said the budget session would "reveal the Modi government's appetite for change [and] its instincts in dealing with the opposition".
India's previous government presented an interim budget in February - ahead of the general election - to cover expenditure until a new government was installed.
Asia's third-largest economy has been weighed down by factors including high inflation, a weak currency and a drop in foreign investment.