Iraq crisis: Stranded Indian nurses freed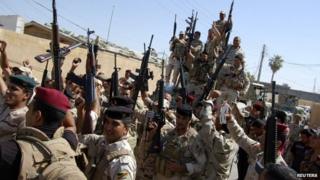 A group of 46 Indian nurses trapped in fighting engulfing parts of Iraq have been freed, Indian authorities say.
The nurses have been handed over to Indian officials in the Kurdish city of Irbil and are due to be flown home on Saturday.
The nurses were working at a hospital in the northern city of Tikrit and had been stranded there for more than week.
Tikrit is among a number of towns and cities seized by jihadist-led Sunni rebels in recent weeks.
"All the 46 nurses in Iraq are safe," chief minister of the southern Indian state of Kerala Oommen Chandy told a news conference on Friday, adding that they were to be transferred to Irbil airport.
The nurses, all from Kerala, are due to arrive in the southern city of Kochi on Saturday morning.
On Thursday, Indian officials said the nurses were "unharmed", but had been moved out of Tikrit.
Indian media reports said they had been pressured into boarding buses and leaving the hospital by jihadist fighters from the Islamic State in Iraq and the Levant (Isis).
But there are few details about the exact circumstances of their release.
Earlier in the week, some of the nurses told the BBC by phone that fighting had reached the hospital compound and there had been several explosions close to their hiding place.
Isis-led Sunni rebels have occupied vast swathes of northern and western Iraq, declaring a large region straddling Iraq and Syria a caliphate or Islamic state.
Isis rebels have been methodically hunting down non-Sunnis and those opposed to the militants, refugees from rebel-held towns told the BBC on Thursday.
Officials and soldiers had been ordered to pledge allegiance to the caliphate or face execution.
More than a million people have fled their homes as a result of the recent conflict, and at least 2,461 people were killed in June, the UN and Iraqi officials say.
'Regrettable failure'
In a symbolic boost to the Iraqi military's hopes of repelling the jihadist advance, the government said on Friday its forces had retaken the village of Awja, birthplace of former President Saddam Hussein, south of Tikrit.
The government also said its forces carried out air strikes on insurgents still trying to capture the key Baiji oil facility in the north, killing 30 rebels.
The success of the jihadist advance has been blamed in part on what some see as the Shia Prime Minister Nouri Maliki's marginalisation of Iraq's minority Sunni population.
Senior Shia cleric Grand Ayatollah Ali al-Sistani criticised parliament on Friday for failing to choose a speaker earlier this week - another setback in Mr Maliki's attempts to form a new unifying government.
The cleric described it as a "regrettable failure" and urged Iraqis to "avoid the mistakes of the past".