Indian media: Rescue citizens trapped in Iraq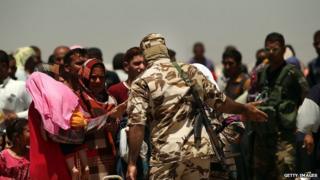 Media feel the time is running out for evacuating 46 Indian nurses and other citizens trapped in Iraq.
Papers say the new government is facing its "first serious foreign policy challenge" and "first major crisis" in ensuring the safety of Indian nationals stranded in Iraq.
The nurses, who were trapped in a hospital in Tikrit, have been moved to another location, a ministry of external affairs spokesman said on Thursday.
Tikrit is among a number of Iraqi towns and cities seized by the militant Sunni group Isis in recent weeks.
"In terms of gravity, this is the Kandahar-type crisis and challenge for the Narendra Modi government… This will inevitably increase the pressure on the central government, just as it happened during the Kandahar crisis when [an] Indian Airlines plane was hijacked from Kathmandu and taken to Kandahar in Taleban-ruled Afghanistan," says the First Post website.
The Asian Age reports that the pressure is "mounting by the day on the government over the crisis" involving Indians stranded in Iraq.
Echoing similar sentiments, The New Indian Express website says the incident has "emerged as the first major crisis for the Narendra Modi government".
"Evacuating Indians from Iraq is the first serious foreign policy challenge for the new government… with relatives in India demanding swift action," says the NDTV website reports.
Train to Taj Mahal
Moving on to national news, at least 12 students, between the age group of 7-14, were admitted to a local hospital in east Delhi after they complained of stomach ache following their Mid-Day meal in school, reports the Deccan Herald.
The Mid-Day Meal Scheme provides free food, but often suffers poor hygiene.
"The children suffered from food poisoning after their Mid-Day meals," the paper quotes a doctor as saying..
And finally, a passenger train set a new national speed record of 160km (100 miles) an hour during a test run between Delhi and Agra in the northern state of Uttar Pradesh, The Economic Times reported.
The train completed the distance in around 90 minutes, it said.
The train is expected to benefit a large number of tourists who visit Agra to see the Taj Mahal.
BBC Monitoring reports and analyses news from TV, radio, web and print media around the world. For more reports from BBC Monitoring, click here. You can follow BBC Monitoring on Twitter and Facebook.