India's Tamil Nadu state launches cheap medicine stores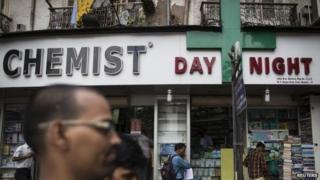 The chief minister of the southern Indian state of Tamil Nadu has launched pharmacies to sell branded medicines at a cheaper rate to the people.
Jayalalitha launched 10 "Amma pharmacies" on Thursday and officials said 90 more would be opened this year.
The chief minister is popularly called Amma, the Tamil for mother.
A populist politician, she is known for distributing freebies to people - in the past her government has given away laptops, fans and food processors.
Ms Jayalalitha's government is already selling vegetables and salt under the "Amma" brand name and also running "Amma canteens", BBC Hindi's Imran Qureshi in Bangalore says.
The Amma pharmacies, located at bus stands and in major markets, would sell medicines, including life-saving ones, at "a fair price", a state government press release said.
The 10 pharmacies have been set up at the cost of 10m rupees ($166,166; £97,552), the statement added.
The new pharmacies have made the owners of regular chemist shops apprehensive.
"Our business will be affected. We have no idea to what extent as of now. We have no idea what kind of medicines will be sold in these shops. We are under the impression that they will be cheaper by 10% to 20% but we are not sure," said N Anandan, secretary of the Tamil Nadu Chemists and Druggists Association.