National Herald case: India court summons Sonia and Rahul Gandhi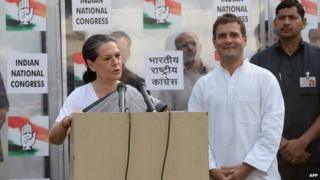 A court in India has summoned top Congress party leaders Sonia and Rahul Gandhi for allegedly "misappropriating assets" of a newspaper.
The National Herald newspaper, which ceased publication in 2008, was acquired by the Congress in 2010.
The party said it wanted to revive the paper, established in 1938 by India's first PM Jawaharlal Nehru.
The petitioner, Subramanian Swamy of the BJP, says the Gandhis took it over for its considerable assets.
He says the leaders used party funds illegally to acquire the newspaper's properties.
A Congress spokesman said the allegations against party president Sonia Gandhi and vice-president Rahul Gandhi were "completely false".
"I have found prima facie evidence against all the accused. The court has directed them to appear before it on 7 August," Metropolitan magistrate Gomati Manocha, said while issuing the summons on Thursday.
Besides the Gandhis, the court has also summoned Congress leaders Oscar Fernandes and Motilal Vora.
The Congress party lost the recent general elections, winning only 44 of the 543 seats after governing India for 10 years.
The Bharatiya Janata Party (BJP) won a landslide victory with 282 seats and has formed a government.