Indian media urge improvements in rail network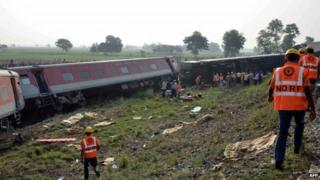 Media in India are calling for better rail safety measures after a deadly train accident in the eastern state of Bihar.
Several coaches of the Rajdhani Express passenger train derailed in Bihar on Wednesday, killing at least four people and injuring 10.
The train was travelling from Delhi to Dibrugarh in the north-eastern state of Assam when it derailed near Chhapra station in Bihar.
Papers call on the government to urgently review rail safety measures and focus on modernisation.
"While protecting a 64,000km network is a Herculean task, particularly for the cash-starved Indian Railways, technology and all other means must be used to increase safety and security on the rails", says The Asian Age.
The Hindu says "a sense of security and confidence needs to be instilled in rail users".
"The general budget and the railway budget need to allocate substantial resources to improve safety on the rails and for the replacement of worn-out coaches and tracks. Consolidation and modernisation should take precedence over expansion", it adds.
AIDS awareness
Meanwhile, papers are also discussing a controversy over federal Health Minister Dr Harsh Vardhan's remarks on AIDS awareness and fidelity.
In an interview with The New York Times, the minister, who is also a medical doctor, reportedly stressed on the need for fidelity more than the practice of safe sex, reports say.
The minister had said that the focus of AIDS campaigns should not be only on the use of condoms as it sends the wrong message that "you can have any kind of illicit sexual relationship, but as long as you're using a condom, it's fine", The Economic Times reports.
He added that the awareness programmes should promote the "integrity of sexual relationship between husband and wife" as "part of India's culture", it adds.
Papers, including the Hindustan Times, have strongly criticised the minister, saying such remarks could be "fatal" to India's fight against AIDS.
"Abstinence and cultural values have not proved any protection against infection as studies have shown… Such remarks coming from the person who is in charge of health in India are worrying…," it says.
BBC Monitoring reports and analyses news from TV, radio, web and print media around the world. For more reports from BBC Monitoring, click here. You can follow BBC Monitoring on Twitter and Facebook.