Indian media: Railway fare hike 'inevitable'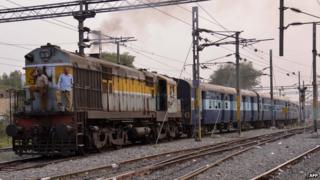 Media in India largely support the government's decision to increase railway passenger fare.
Railway Minister DV Sadananda Gowda on Friday announced a 14.2% increase in passenger fares and a 6.5% raise in freight rates.
India's state-owned railway operates more than 11,000 trains and carries some 13 million passengers daily.
The minister said the fares had been increased to improve facilities and recover losses.
"It is estimated that the monthly loss to the railways on account of passenger fares is about 9bn rupees (£88m; $149m). As a result, the freight rates were subsidising or diverting profits to the passenger segment, and this was not sustainable. The increase was considered inevitable," The Hindu says.
The Times of India says the hike should be followed with "efforts to improve railway services in tangible ways while also cutting unnecessary costs".
The paper praises the new government for taking a tough economic decision as part of an effort to bring the country's economy back on track.
"Mr Gowda, and more so Prime Minister Narendra Modi, have decided to bite the bullet and mark up the fares substantially," the paper adds.
The Indian Express agreed that the hike was "long overdue" and the previous government had resisted the decision due to "political-electoral considerations".
The paper adds the government must communicate to people the necessity and the rationale behind such "tough decisions".
The Business Standard says without the hike "Indian Railways' already precarious finances would have gone even more off-track - indeed, might have become irretrievable".
However, some papers are concerned that the hike may escalate inflation.
"Politics apart, the burden on poor train travellers like migrant labour is real and painful. Their travel as well as food items transported by trains will become costlier," The Tribune says.
Rain respite
Meanwhile, Delhi residents can soon expect some respite from soaring temperatures as mild showers are expected in the city before Thursday, the Meteorological Department says.
In the last few weeks, temperatures have frequently soared over 40C in Delhi and other parts of northern India.
And finally, the Bombay High Court has rejected a man's plea for divorce over his wife's weight problems.
"One of the grounds for seeking divorce was that the wife had concealed from her husband that she had undergone a breast surgery before marriage as a result of which she gained weight later," the paper reports.
The man complained that his wife was not able to do any household work. But the court rejected the man's plea, saying such issues can never be a reason for seeking a divorce.
BBC Monitoring reports and analyses news from TV, radio, web and print media around the world. For more reports from BBC Monitoring, click here. You can follow BBC Monitoring on Twitter and Facebook.