Indian media: Court's remarks on rape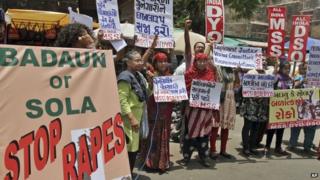 Media in India are highlighting a Delhi High Court judge's statement that the "increase in rape cases is a failure of live-in relationships".
"One of the major reasons contributing to increase in the rape cases is a failure of live-in relationship or any immature decision on the part of such young adults which more often end up in a broken relationship but sometimes after indulging into physical relationship," a report on the NDTV website quotes the court as saying.
The judge made the observation while upholding the life term given to four members of a girl's family from Delhi. The girl's father and his three brothers had killed her 24-year-old partner Kuldeep, as they did not approve of their relationship.
It also advised parents to be more reasonable while reacting to live-in relationships.
"Parents are also expected to behave with more sensitivity and maturity as such issues need to be resolved with patience, understanding and tolerance and instead of indifference or with a bent of mind of alienating the two," it said.
Social activist and actress Nafisa Ali disagreed with the court's observation.
"If the court has observed something then it must be with wisdom but a rapist is a person with a sick mind who targets the innocent victims. There is a need to look at rape cases from different perspectives," The Asian Age quotes her as saying.
The court's remarks come in the backdrop of several recent cases of rape and murder in northern India.
'Language divide'
Meanwhile, newspapers are also discussing the new government's "controversial decision" to make Hindi the official language of communication in governance.
Although India's constitution recognises a total of 22 languages, Hindi and English have been India's two official languages in the government's functioning.
However, soon after taking office, Prime Minister Narendra Modi directed officials to use Hindi in all official correspondence and also asked them to switch to Hindi on social media.
"But in a country with as many as 22 official languages, many question Hindi's dominance," reports The Hindustan Times.
The First Post website feels that the Modi government "is sailing dangerously close towards igniting a language divide where there is none".
The website adds that the move "comes close to crossing the line between a healthy decision to speak to Indians in the languages they understand best, and backing Hindi chauvinism".
Meanwhile, newspapers say that the kidnapping of 40 Indians in Iraq by the radical Sunni group Isis shows that India is "now in global jihadi crosshairs".
"It's fast becoming clear that Indian citizens and assets in West Asia [Middle East] are no longer as safe as they used to be. The recent kidnapping of an Indian priest and the attack on the Indian consulate in Herat, Afghanistan, bolster this perception. Add to this the surfacing of an al-Qaida video specifically extolling jihad in Kashmir," says The Times of India.
"Reportedly, even the Isis has released a world dominion map that includes parts of India. Clearly, India is in the crosshairs of global jihadi groups, making Indian citizens and assets abroad vulnerable," the paper adds.
BBC Monitoring reports and analyses news from TV, radio, web and print media around the world. For more reports from BBC Monitoring, click here. You can follow BBC Monitoring on Twitter and Facebook.