Indian media: Modi's Bhutan visit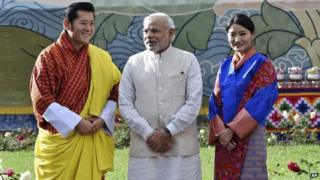 Media in India feel Prime Minister Narendra Modi's Bhutan visit shows his government's policy of asserting influence in South Asia.
Mr Modi on Sunday met Bhutanese King Jigme Kesar Wangchuk and Prime Minister Tshering Tobgay in Thimpu on his first foreign trip as PM.
"Right from day one, the Narendra Modi government has made clear the importance it attaches to relations with neighbouring countries. Mr Modi's swearing-in ceremony that saw leaders of all Saarc (South Asian Association for Regional Cooperation) nations attending exemplified this point," The Times of India says.
"In this regard, Mr Modi's two-day visit to Bhutan - his first official foreign trip since assuming office - underscores his administration's commitment to India's neighbours," the paper adds.
Mr Modi addressed a joint session of Bhutanese parliament on Monday, stressing his government's desire to further boost Delhi-Thimphu ties.
Some sections of the media are also hoping that Mr Modi's visit will counter China's efforts to have greater influence in Bhutan.
The Hindustan Times notes that Mr Modi's overtures to Bhutan "assume significance since China has lately intensified efforts to woo it and establish full-fledged diplomatic ties with Thimphu".
"The Buddhist nation, wedged between India and China, is the closest India has to an ally in South Asia, a region of bristling rivalry where China is making inroads," the paper added.
Mr Modi's visit comes ahead of another round of scheduled bilateral talks between China and Bhutan, reports say.
Road rage
Moving on to domestic stories, in a tragic case of road rage, a traffic policeman was allegedly run over by a 26-year-old in Delhi following a heated argument, The Times of India reports.
The quarrel occurred when the policeman stopped the man for driving on the wrong side of the road, the paper says.
When asked to take a different route "the accused reversed his car and ran over the constable", the paper adds.
And finally, India has urged its citizens to avoid travelling to Iraq due to escalating violence in the Middle Eastern country, the Mint website reports.
"In view of the precarious security situation prevailing in Iraq, Indian nationals are advised to avoid all travel to Iraq," the paper quotes the external affairs ministry as saying.
The Indian embassy in Baghdad has also set up a 24-hour helpline to assist its citizens living in the country, the paper adds.
Sunni rebels led by ISIS (the Islamic State in Iraq and the Levant) have taken control of key cities of Mosul and Tikrit.
BBC Monitoring reports and analyses news from TV, radio, web and print media around the world. For more reports from BBC Monitoring, click here. You can follow BBC Monitoring on Twitter and Facebook.