Indian media: Mumbai metro starts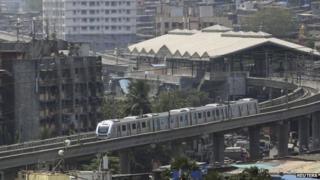 Papers say the start of a long-awaited Metro rail service is likely to provide "much-needed relief" to thousands of "harried commuters" in India's financial capital, Mumbai.
The chief minister of the western state of Maharashtra, Prithviraj Chavan, on Sunday inaugurated the first line of the service that will run between Versova and Ghatkopar stations.
The service will give relief to "harried commuters in a city that is bursting at the seams", says The Pioneer.
Mr Chavan said the introduction of metro services would revolutionise the commuting of Mumbai residents.
Mumbai already has an "overburdened" suburban railway that carries over 700,000 passengers every day.
The Metro system is likely to ease the congestion on the suburban railway system in the bustling metropolis, says The Economic Times.
"With this service, the journey on the 11.4 km (8 miles) Versova- Andheri-Ghatkopar stretch will reduce to 20 minutes which otherwise takes around 90 minutes at present by road transport," the paper adds.
Moving on to international relations, papers see Chinese foreign minister Wang Yi's Delhi visit as Beijing's bid to reach out to Indian Prime Minister Narendra Modi.
"The international community is closely following developments in India and the Chinese and Indian dreams have a lot of commonalities," Mr Wang said after meeting his Indian counterpart Sushma Swaraj on Sunday.
Most papers and experts feel China sees "big business opportunities" in India because of Mr Modi's focus on infrastructure development and bilateral trade.
"The governments of India and China on Sunday discussed ways to increase bilateral trade beyond the current $65bn a year by exploiting 'untapped opportunities', including India setting up special industrial parks for Chinese firms," says a report in the Business Standard.
Heat wave
Elsewhere, papers say severe power outages have made it difficult for people to deal with rising temperatures in northern states of India.
"Heat wave conditions continued to sweep across north India on Sunday with the mercury hovering over the 45 degrees Celsius mark in most places, even as the weather department dispelled any hope of immediate relief," reports the Mint website.
Many cities are facing regular power cuts that sometime last for for 10-12 hours.
"Adding to the soaring temperature were frequent power cuts and water shortage in several cities," writes the Daily Bhaskar website.
BBC Monitoring reports and analyses news from TV, radio, web and print media around the world. For more reports from BBC Monitoring, click here. You can follow BBC Monitoring on Twitter and Facebook.