Indian media pay tributes to Gopinath Munde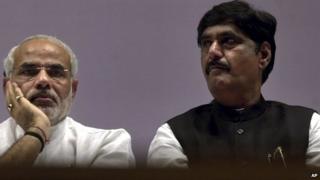 Newspapers are remembering Rural Development Minister Gopinath Munde as a "mass leader" who worked tirelessly for the country's poor.
Mr Munde, 64, who was appointed just last week to Prime Minister Narendra Modi's new government, died on Tuesday in a car crash in the capital, Delhi on Tuesday.
He was on his way to the airport to take a flight to his home state of Maharashtra when his car was hit by another vehicle.
Papers feel Mr Munde's death has left a "big void" in India's political space, particularly in the ruling Bharatiya Janata Party (BJP).
"The deceased leader was a man of wide experience, unlike many in the BJP's top brass… But his most important attribute was that he was a mass leader in his home state… This is why the death of the veteran leaves a bigger void than would the demise of an individual cabinet minister," says The Deccan Chronicle.
Echoing similar sentiments, the Hindustan Times says Mr Munde's death has "left a vacuum in a number of political spaces".
The paper adds that "in his death, the party has lost not only a splendid organiser, skilful negotiator and a good orator but also its best mass leader".
The Times of India agrees, saying Mr Munde's death "is a tragedy not only for BJP but for the country".
"It's fair to say that the party will find it almost impossible to find a man to replace him straightaway," the daily adds.
Newspapers and websites are also discussing the impact of the leader's death on the upcoming elections in his home state of Maharashtra.
"Having been deputy chief minister of Maharashtra once, he had been slated to lead his party's charge for the remaining blockbuster event in domestic politics in this year's calendar: assembly polls in Maharashtra," says The Times of India.
The Hindustan Times says Mr Munde's "party leaned on his extensive knowledge, network and affability, and lastly in managing the party's challenging coalition with the Shiv Sena [regional Hindu nationalist party in the western state of Maharashtra]".
Dangerous roads
Meanwhile, papers are also highlighting India's poor road-safety record in the wake of Mr Munde's accident.
"India is a country where more than 300 people die every day on the road, and Munde's death is one more reason for us to ask hard questions about our appalling road safety standards and what to do about it," says the Mint website.
The Hindustan Times says "if his death can be a catalyst to bring discipline and order on our roads, there would be some consolation".
The Hindustan Times says that the incident has "brought into sharp focus once again the alarming number of fatalities on Indian roads with little thought on safety. To put this disquieting data in perspective, almost half the equivalent population of some countries like Iceland or the Maldives is wiped out on Indian roads every year".
BBC Monitoring reports and analyses news from TV, radio, web and print media around the world. For more reports from BBC Monitoring, click here. You can follow BBC Monitoring on Twitter and Facebook.