Indian media: Challenges for Telangana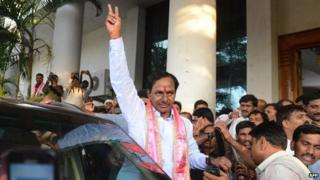 Media are discussing the opportunities and challenges for the first chief minister of India's newest state, Telangana.
K Chandrasekhar Rao, of the Telangana Rashtra Samithi party (TRS), was sworn in as the chief minister for India's 29th state on Monday.
Mr Rao and his party struggled for 14 years and spearheaded the movement to carve out the new state from the southern Indian state of Andhra Pradesh.
Andhra Pradesh witnessed several violent clashes between pro and anti-Telangana groups in the last few years.
But newspapers are urging the two states to forget the "bitter struggle" and work for the people.
The Hindu describes the birth of the new state as a "historic opportunity".
"The future should not be held hostage to the past… [Telangana's birth follows] a long and bitter struggle that was marked by much avoidable pain and suffering," the paper says in an editorial.
The paper notes that while there are celebrations in Telangana, people in the new, smaller Andhra Pradesh "remain wary of the immediate and lasting consequences of the bifurcation".
But it adds that "rather than dwell on the issues of the past, Andhra Pradesh and Telangana have the opportunity to work out their future as neighbours held together by a sense of shared political and cultural history."
The Hindustan Times agrees, adding that the central government must now ensure a fair division of resources between the two states.
"Sectors like health, power, education, industry and irrigation need to be prioritised and resources need to be divided equitably. Every decision taken will have a lasting impact on the states and there's no room for error," the paper says.
Calcutta's IPL joy
The Kolkata Knight Riders (KKR) won the seventh edition of the Indian Premier League (IPL) on Sunday night in a closely-fought match against the Kings XI Punjab.
The Kings were tipped to win the title due to their consistent form in the cricket tournament, but the KKR's Manish Pandey had other ideas.
Pandey played a quick-fire inning of 95 to help his team successfully chase the Kings' formidable target of 200.
Newspapers and websites are full of praise for the youngster's efforts.
"Manish Pandey, Kolkata's Knight in Shining Armour," says the NDTV website in a headline.
The eastern city of Calcutta, also known as Kolkata, "erupted in joy" after the KKR's second title triumph.
"Kolkata erupted in joy twice over as firecrackers lit up the sky and fans were out on streets after the home franchise, KKR, registered a nail-biting win," says the CNN-IBN website.
BBC Monitoring reports and analyses news from TV, radio, web and print media around the world. For more reports from BBC Monitoring, click here. You can follow BBC Monitoring on Twitter and Facebook.