India's Narendra Modi asks ministers to set '100-day agenda'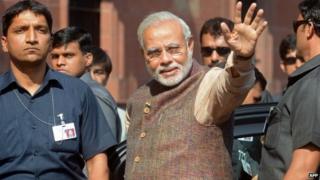 India's new PM Narendra Modi has asked his ministers to prepare their agendas for the first 100 days with focus on governance, efficient delivery and implementation of programmes.
Mr Modi, who won a landslide in the general election on the promise of good governance and development, held his second cabinet meeting on Thursday.
The cabinet also agreed to call a brief session of the parliament from 4 June.
The chamber would reconvene in July for the government to present the budget.
Parliamentary Affairs Minister Venkaiah Naidu, who briefed the reporters after the cabinet meeting on Thursday, did not reveal which of the issues would be taken up first, only saying that "all sectors are a priority for the government and expectations are high".
"Containing inflation is an obvious priority for the government," he said when repeatedly questioned by the media.
Media reports, quoting unnamed officials, said Mr Modi had listed 10 priorities in his cabinet meeting, asking his ministers to build confidence in the bureaucracy, ensure greater transparency in governance and focus on education, health, water, energy and roads.
Mr Naidu said the cabinet had decided to convene a week-long parliamentary session from 4 June to 11 June.
The lower house will elect a new speaker on 6 June and the president will address a joint session on 9 June, he added.
Correspondents say since his swearing-in on Monday evening, Mr Modi has hit the ground running.
On Tuesday, he met leaders of all the seven South Asian countries and also Mauritius for bilateral talks.
Later on the same day, he held his government's first cabinet meeting where it was decided to set up a special task force to find illicit money.
The government said the special investigation team (SIT) would seize "black money" - cash that has not been declared or taxed and is mostly deposited in foreign banks.