Can India's Modi integrate South Asia?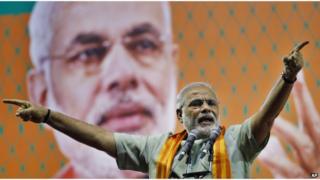 Indian Prime Minister Narendra Modi's decision to invite South Asian leaders to his oath-taking ceremony was seen by many as a "diplomatic coup". But can India's top politician reinvigorate his country's role as a driving force in South Asia? BBC Monitoring's Vikas Pandey analyses the impact of Mr Modi's early foreign policy initiatives on regional diplomacy.
Not many expected the Hindu nationalist leader to take the "unprecedented step" of inviting India's neighbours at the start of his stint as the country's new PM.
Mr Modi came to power on the back of a massive victory in the recently-concluded general elections and that gives him the mandate to reach out to India's neighbours in a more direct and decisive manner.
But why has he shown such eagerness to reset South Asia?
The BJP leader's poll promises were all about fast economic recovery, job creation and infrastructure development and foreign policy issues rarely figured in his campaign speeches.
But if one looks closely, some analysts say, it's the economy that seems to have driven Mr Modi's first major foreign policy initiative.
India's export to South Asian countries stood at $17.3bn (£10.3bn) in the last fiscal year, according to government figures. In comparison, India's exports to the world totalled at $312bn (£187).
Observers say it is this gap that Mr Modi is trying to reduce through his early initiatives.
Foreign policy analyst Rory Medcalf, in his Economic Times article, says Mr Modi wants "closer integration of Indian business and diplomacy".
Big market
India clearly sees a big market in its neighbourhood and one that the previous governments have not been able to harness to the country's benefit.
Successive Indian governments have failed to unite South Asia in the past despite the country's status as the largest - both geographic and economic - power in the region.
Can Mr Modi succeed where his predecessors failed?
He has certainly made a good start by meeting South Asian leaders on his first day in office.
But a region as divided as South Asia will require Mr Modi to take his initiatives beyond these brief meetings.
Mr Modi has a tough job considering India's border tensions with Pakistan and issues with other regional countries.
In the past decade, India's foreign policy faced many setbacks in its immediate neighbourhood largely due to the Manmohan Singh government's coalition compulsions.
On Pakistan, Mr Singh took several bold steps to normalise relations, including bilateral talks with Islamabad.
But the initiatives never yielded substantial results. This happened largely due to Mr Singh's compulsions at home and internal bickering in the Pakistani establishment.
Pundits, however, say Pakistan Prime Minister Nawaz Sharif's Delhi visit has marked a bold move in Delhi-Islamabad relations.
Mr Sharif and Mr Modi may not be able to completely sideline long-standing disputes like Kashmir, but they are known as "business-minded" leaders and business will certainly get more importance in the near future.
Veteran journalist N Ram says "both PM Modi and Mr Sharif deserve praise" for their early efforts in normalising ties.
Resetting ties
In its neighbourhood, India also needs to reset its ties with Bangladesh, Sri Lanka, Maldives, Nepal and Burma (also known as Myanmar).
Delhi's relations with Dhaka suffered a setback when the two countries failed to sign a crucial water-sharing deal in 2011.
The chief minister of India's West Bengal state, Mamata Banerjee, steadfastly opposed the agreement and threatened to withdraw from Mr Singh's ruling coalition.
This weakened Mr Singh's position and the deal was shelved.
Mr Modi and his team will have to restart these negotiations to win back the trust of an important ally like Dhaka.
During his campaign, Mr Modi also promised to deal with the sensitive issue of Bangladeshi immigrants in India.
Analysts say he will not be able to solve this problem without taking Dhaka into confidence.
"The carrot, not the stick, will be needed to convince Bangladesh to talk. It needs to realise that its reluctance in addressing the problem has harmed its own interests," writes Joyeeta Bhattacharjee in The Diplomat.
On Sri Lanka, the Congress government had to walk a diplomatic tightrope several times to satisfy its Tamil allies and under pressure from them, Mr Singh did not attend a meeting of the heads of Commonwealth nations in Colombo in November.
India's Tamil parties blame the Sri Lankan government for atrocities committed against Tamils during the country's long civil war. Colombo denies such allegations.
Restoring good relations with Colombo will certainly be one of Mr Modi's top priorities as it has been evident from his silence on opposition to his invitation to Sri Lankan President Mahinda Rajapaksa to attend his swearing-in ceremony.
But analysts say even though Mr Modi has no coalition compulsions, he can hardly afford to ignore Tamil voices in India.
He will have to make cautious diplomatic moves to address Tamil concerns while pursuing good ties with Colombo which is an important ally in India's quest to ensure its maritime dominance in the Indian Ocean.
India also has to ensure stability in Nepal and the Maldives. Both countries have recently seen political upheavals.
On Afghanistan, Mr Modi is likely to continue with India's "no-boots on the ground" policy. He will have to boost aid programmes and keep all sections of the Afghan society engaged.
Delhi has the ability, some even say responsibility, to integrate South Asia when other regional blocs like the European Union are working together.
Analysts say India cannot claim to be a world power until it acts like one in its own backyard.
Early signs suggest that Mr Modi is listening.
BBC Monitoring reports and analyses news from TV, radio, web and print media around the world. For more reports from BBC Monitoring, click here. You can follow BBC Monitoring on Twitter and Facebook.