India writer UR Ananthamurthy threatened for Modi criticism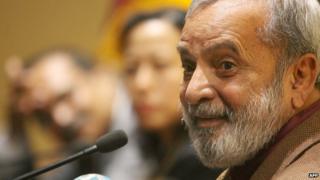 Award-winning Indian writer UR Ananthamurthy has told the BBC that he has been receiving threatening calls for his comments criticising India's PM-elect Narendra Modi.
A few months ago, the Kannada language writer had said that he would leave the country if Mr Modi became India's PM.
He later retracted his statement saying he had made it out of frustration.
After Mr Modi's landslide victory in the election results, a Hindu hardline group said he should go to Pakistan.
The group, which calls itself NaMo Brigade, said it had sent the writer a one-way ticket to Karachi for 17 May - a day after the vote count. NaMo is short for Narendra Modi.
Although Mr Ananthamurthy denied receiving the ticket, he said he had received "calls at odd hours threatening me and asking me why don't you take the air ticket and go away to Pakistan".
"It's very mean of them. I am a very serious writer of this country. I am now 82. I have written novels which are known all over the world. I have communicated my concept of the Indian village to the world. I am not an elitist writer. I cannot be made fun of like that. I am a very proud man," he said.
Bangalore police commissioner Raghavendra Auradkar said the writer had "orally communicated to us that he had received threat calls. We have posted a police platoon at his residence for his protection".
Meanwhile, national award winning filmmaker Girish Kasaravalli has come out in Mr Ananthamurthy's support.
"One should understand the sentiment when a personality like Ananthamurthy makes a statement like that. One shouldn't take it literally. Very often people confuse the man with his ideology. Criticism of an ideology does not mean he is criticising the individual personally," he said.
"We live in a democracy in which you can express your views. Ananthamurthy has a clear view of independent India where people of all religions, languages and cultures live peacefully."
Representatives of the NaMo Brigade did not respond to calls from the BBC.