Indian media: Modi's 'emotional speech'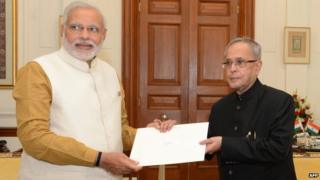 Media in India are analysing PM-elect Narendra Modi's "emotional" speech in the parliament on Tuesday.
Mr Modi "fought back tears" and spoke in a "choked" voice in his acceptance speech to BJP MPs after they elected him as their leader and the newspapers are capturing the story in front-page headlines.
"Emotions get better of 'strongman' Modi," says The Tribune headline.
The Hindustan Times' headline reads: "At history's doorstep, he breaks down."
Papers say Mr Modi displayed his "rare emotional side" during his speech.
"In the last nine months, he made millions in India run through an entire gamut of emotions: anger, aversion, pluck, mirth, amazement and much more. In all these speeches, Mr Modi looked like a man in control of his emotions. But on Tuesday... he choked with emotions. Modi wept… ," says The Times of India.
However, some dailies, including The Times of India, feel Mr Modi's speech mixed "drama with substance".
"Like a gifted artist who makes the audience sway with the emotion, Mr Modi appeared to be making others emotional… It was evident right from the very beginning that it was a day of emotional drama," the paper says.
Meanwhile, Mr Modi seems to be receiving some praise for his powerful communication skills.
"It is this mix of message and style which has made Modi one of the most successful political communicators in modern politics, agree observers, be they critics or sympathisers. It also marks him as a man completely distinct from his predecessor, Manmohan Singh, who was known for his silences, for remaining expressionless, and for his wooden-style delivery," the Hindustan Times says.
The Hindu says Mr Modi used the speech to project himself as a team player.
He "sought to dispel the many notions about his persona by presenting himself as a team-player rather than authoritarian, decisive yet emotional, preserver rather than a challenger of institutions and emphatically pro-poor", it says.
Twitter controversy
Elsewhere, papers are reporting a "controversy" over the renaming of the official Twitter account of the Indian prime minister's office (PMO).
The account was created to help Manmohan Singh communicate with India's digital population.
The PMO on Tuesday renamed and archived the Twitter handle, "sparking a furore in political circles", says The Indian Express.
The Bharatiya Janata Party (BJP) criticised the move, saying it was "disgraceful, unethical and illegal in the way the outgoing team handling the @PMOIndia Twitter account has conducted the transition of this national digital asset".
And finally, regional Hindu nationalist Shiv Sena party, a coalition partner of the BJP, has urged the new government to adopt an "aggressive" policy towards Pakistan, reports the Deccan Herald.
"A tit for tat policy should be there for Pakistan. If it is okay with us, we should be okay with them. If Pakistan creates trouble, we should teach it a lesson," the paper quotes party chief Uddhav Thackarey as saying.
BBC Monitoring reports and analyses news from TV, radio, web and print media around the world. For more reports from BBC Monitoring, click here. You can follow BBC Monitoring on Twitter and Facebook.