India's Narendra Modi replaced by Anandiben Patel in Gujarat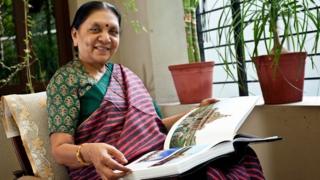 India's Prime Minister-elect Narendra Modi has stepped down as the chief minister of western Gujarat state.
Mr Modi, who has ruled Gujarat for nearly 13 years, led his BJP party to a landslide win in the recent election and will take the oath of office as India's new prime minister on 26 May.
Anandiben Patel, a senior Gujarat minister, will succeed Mr Modi.
Ms Patel has been a minister since 1998 and has built a reputation as a tough administrator like her predecessor.
A meeting of the BJP's legislature party chose Ms Patel, who becomes the first woman leader of the state.
For years Ms Patel, 72, has been seen as Mr Modi's second-in-command, and has been in charge of a number of portfolios, including revenue, roads and buildings, disaster management, urban development and urban housing.
Earlier Mr Modi resigned as chief minister after attending a send-off organised by the state's legislators.
"The world is praising me. But being praised here has its own charm," he was quoted as telling the meeting held in the state assembly.
Gujarat is the only state in India where the BJP has been in power continuously since 1998, never failing to win at least half of the seats in state or general elections during that time. The party scooped all 26 seats when results in the general election were tallied on Friday.
In 2012, the party registered its fifth consecutive win in the state polls - its third under Mr Modi.
Mr Modi campaigned during the recent election on his record as a dynamic and efficient politician who has helped to make Gujarat an economic powerhouse.
But he also is accused of doing little to stop the 2002 religious riots when more than 1,000 people, mostly Muslims, were killed - allegations he has consistently denied.