What will Narendra Modi's foreign policy be like?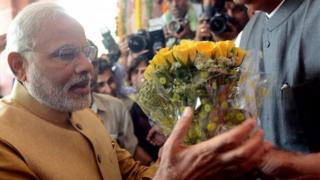 Foreign policy issues did not enjoy much prominence in the Indian general election campaign, with Prime Minister-elect Narendra Modi devoting almost all of his rallies and speeches to questions of governance and economic development.
Only on a handful of occasions did he invoke either the People's Republic of China (PRC), Pakistan and Bangladesh.
When he did so his rhetoric had been both bold and unyielding: he had criticised the Congress-led UPA regime for not responding with vigour to border clashes in Kashmir and had warned Beijing that India would robustly defend its territorial integrity.
Beyond these issues he had also expressed his irritation with the government's efforts to stem illegal migration from Bangladesh.
Apart from these highly emotive matters, his only other foray into the realm of foreign policy was an expression of admiration for Japan and the need to engage the country within the context of boosting India's economic diplomacy.
At this stage, these statements and comments are all that is available about the likely directions of Mr Modi's foreign policy.
Once he announces his choices for the positions of the national security adviser and the minister for external affairs it will be possible to make further inferences about his principal foreign policy priorities.
At present, while a number of names are making the rounds in Delhi, no firm word about these selections is available.
'Economic diplomacy'
Despite the paucity of adequate information about his foreign policy orientation, it is nevertheless possible to make some inferences about his possible proclivities.
Given his interest in jump-starting the economy, there is little or no question that economic diplomacy will be one of his key priorities.
To that end he will, in all likelihood, seek to re-engage the states of South-East Asia and Japan. He will also, in all likelihood, encourage India's expanding business interests in Africa and boost them at the next G-20 summit.
Furthermore, it is entirely reasonable to surmise that, within limits, he will also attempt to entice foreign investment from major European states.
What remains downright uncertain, however, is how he intends to deal with the United States.
The question is far from trivial: the US is now embroiled in a range of trade disputes with India, bad feelings linger in both capitals thanks to the arrest and brief incarceration of Indian diplomat Devyani Khobragade and above all, it is not evident to what extent US efforts to reach out to him have proven successful.
What is known, however, is that Mr Modi had taken serious umbrage at the denial of a US visa in 2005 because of his conduct during the riots that had swept across his home state of Gujarat in 2002 in which more than 1,000 people, mainly Muslims died.
Mr Modi has always denied any wrongdoing and has never been charged.
Given the vital importance of the US to trade and investment matters it is possible to envisage that Mr Modi may well, in due course, overcome his pique and choose to work with the US.
However, it is equally possible that he may decide that he need not be in any particular hurry to respond to American overtures.
Tougher stance?
What about relations with India's key neighbours like China, Pakistan and Bangladesh, who are hostile and nettlesome to varying degrees?
On these matters it is possible to make a more forthright assessment.
Though trade issues with the China will remain important, it is more than likely that he will adopt a tougher stance in border negotiations, ramp up defence spending and show less of a willingness to tolerate what India deems to be incursions along a poorly demarcated Himalayan border.
His more tough-minded posture will hold much appeal for a significant segment of his constituency which feels that India needs to stand up to its quarrelsome and overbearing neighbours.
In a markedly similar vein, it is also probable that he will serve notice on Pakistan if an attack on Indian soil can be traced to Islamabad.
Many of those who have advised him on questions of foreign and security policy are known for their hawkish views on Pakistan.
Furthermore, a substantial segment of the Indian populace, whether or not they are his supporters, have evinced a growing frustration with India's seeming inability to respond to provocations and militant attacks.
Will his actions match his rhetoric on the vexed question of illegal immigration from Bangladesh?
He may well intend to adopt a stricter set of policies to curb such migration.
However, thanks to India's federal system of governance he will quickly discover that his ability to implement a new set of policies remain at the mercy of local satraps who take their privileges seriously.
Nowhere is this more likely than in the state of West Bengal, where Chief Minister Mamata Banerjee is not known for her willingness to pay heed to Delhi's policy preferences, let alone its diktat.
While Mr Modi may well prefer to devote his energies and efforts to compelling questions of domestic politics, he will soon learn that the world has a way of intruding on his agenda.
How he handles these matters will, in some important measures, test his mettle as a national, and potentially, as a regional leader.
Sumit Ganguly is a professor of political science and holds the Rabindranath Tagore Chair in Indian Cultures and Civilizations at Indiana University, Bloomington.