Tarun Tejpal: India rape case editor bailed for mother's funeral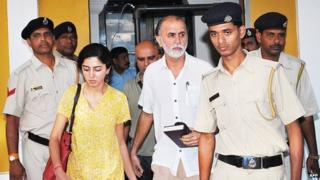 India's Supreme Court has allowed the former editor of a news magazine who is charged with raping a female colleague to attend his mother's funeral.
Tarun Tejpal, former editor of Tehelka, has been in prison since 30 November. He has been given bail for three weeks.
Mr Tejpal is also charged with "sexual harassment" and "outraging the modesty of a woman". He denies the charges.
His unnamed accuser has alleged that he assaulted her at an event organised by Tehelka in Goa in November last year.
Legal experts say if found guilty, Mr Tejpal could be sentenced to at least seven years in jail.
In February, prosecutors filed charges, running to nearly 2,700 pages, in a court in Goa, which has repeatedly denied him bail.
Mr Tejpal's mother Shakuntala Tejpal, who was suffering from a brain tumour, died on Sunday evening, reports quoting his lawyer Sandip Kapoor said.
"She expired last [Sunday] evening at [Mr] Tejpal's Goa residence. The decision is yet to be taken whether the final rites would be conducted in Goa or Delhi," Press Trust of India quoted Mr Kapoor as saying.
After Mr Tejpal was accused of rape, critics accused Tehelka magazine - one of India's top investigative titles, which has exposed gender inequality and officially-sanctioned misogyny - of hypocrisy and double standards.
The case has particular resonance because it comes amid a debate about attitudes to sexual violence in India after the brutal gang rape and murder of a woman in Delhi in December 2012.