Indian media: 'Rebuilding' Congress party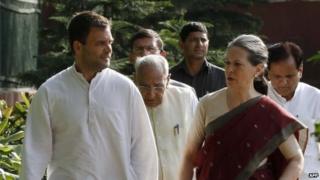 Media in India feel the Congress party needs a "reboot" after a massive defeat in the recently-concluded general election.
Top leaders Sonia Gandhi and Rahul Gandhi offered to quit at the Congress Working Committee meeting on Monday, but the party refused to accept their resignations, reports say.
The Congress suffered a crushing defeat in the elections against a formidable Bharatiya Janata Party (BJP), led by PM-elect Narendra Modi.
Most newspapers agree that the party needs to take corrective measures to make a comeback.
"Facing challenges, Congress usually mouths cliches like 'we must introspect'... But now, Congress needs to do much more than contemplate its navel. It needs a sharp, serious ideological reboot, one that aligns it with contemporary India," The Times of India says.
The paper describes the Gandhi-Nehru family as the party's "toughest Achilles' heel".
"Being controlled by one family - with seemingly little to offer voters other than glories of a faded past - makes Congress appear slavishly feudal," the paper says.
After the poll debacle, some Congress workers have been asking Sonia Gandhi's daughter, Priyanka, to take control of the party, reports say.
The Hindustan Times, however, says "replacing one Gandhi with another Gandhi face" may not be a solution to the problem.
"The rot has gone too deep for Priyanka Gandhi Vadra to set right should she replace her brother Rahul Gandhi," the paper says.
It adds that "the Congress, seemingly in terminal decline, needs a major surgery to recover from this cataclysmic defeat at the hands of the BJP".
Modi's 'alter-ego'
Meanwhile, Mr Modi has urged BJP MPs to refrain from lobbying for ministerial posts, The Times of India reports.
"He is learnt to have told the delegation of MPs from Karnataka who called on him on Sunday that even in Gujarat he did not encourage lobbying for ministerial berths and there is no point in doing it," the paper says.
And finally, Nitish Kumar, who resigned as the chief minister of Bihar on Monday, has nominated Jitan Ram Manjhi as the new chief of the eastern state, the Hindustan Times reports.
Mr Kumar resigned after his party's poor performance in the general election.
Meanwhile, in Gujarat, Anandiben Patel, 73, is likely to replace Mr Modi as the state's new chief minister, reports The Times of India.
The paper describes Mrs Patel as Mr Modi's "alter-ego".
BBC Monitoring reports and analyses news from TV, radio, web and print media around the world. For more reports from BBC Monitoring, click here. You can follow BBC Monitoring on Twitter and Facebook.