Indian media: 'Hectic negotiations' in BJP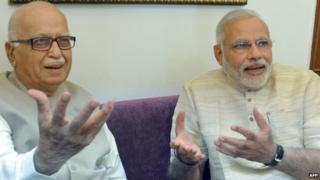 Media in India are highlighting the intense negotiations in the BJP over the next government's formation.
The Bharatiya Janta Party (BJP)-led National Democratic Alliance (NDA) won 336 out of the 543 Lok Sabha (lower house of the parliament) seats in the recently-concluded general elections.
Newspapers have been reporting "hectic" meetings between prime minister-elect Narendra Modi and top party leaders.
The Hindustan Times says Mr Modi will have to decide the roles of veteran leaders like LK Advani and Murli Manohar Joshi.
"The first task that Mr Modi seems to have set for himself is settling the prickly issue of suitably accommodating Mr Advani, 86, and Mr Joshi, 80, who haven't shared the best of relations with the PM-elect," the paper says.
"Mr Advani is keen to be Lok Sabha (parliament) speaker…while Joshi has shown interest in finance or external affairs," the paper adds.
The Times of India, however, suggests Mr Modi is keeping all his cards close to his chest.
"With Mr Modi in total command, little has been spilling out on who gets what in the new government," the paper says.
Leaders from the BJP and the Rashtriya Swayamsevak Sangh (RSS), the Hindu nationalist organisation from which the BJP draws its ideological roots, have also held meetings, reports the paper.
"Hectic consultations were on, both among BJP and RSS leaders, as Mr Modi went over to party patriarch LK Advani's residence just after [Sunday] noon, for the first formal meeting with him after leading the party to a resounding victory in the Lok Sabha polls," the paper says.
"The final call (on Mr Advani), however, will be taken by Mr Modi in consultation with RSS chief Mohan Bhagwat, it is learnt," the paper adds.
Papers are also discussing Bihar state chief minister Nitish Kumar's decision to resign after his party's poor show in the general elections.
The Janata Dal (United), led by Mr Kumar, won only two out of the 40 Lok Sabha seats in the eastern state.
The Hindustan Times suggests Mr Kumar miscalculated when he pulled out of an alliance with the NDA last year after the appointment of Mr Modi as the head of the BJP's election campaign.
"Many party leaders got their calculations all wrong in this election. None more so than Nitish Kumar," the paper says.
BBC Monitoring reports and analyses news from TV, radio, web and print media around the world. For more reports from BBC Monitoring, click here. You can follow BBC Monitoring on Twitter and Facebook.