Indian media: BJP's 'historic win'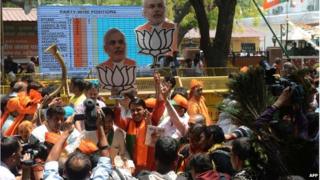 "It's Modi's day," says a front-page headline on The Hindu's website. It very much sums up the media's mood on Friday as early results show a landslide win for the Bharatiya Janata Party (BJP).
The BJP is leading in 250 of 485 seats for which initial indications are available, while the ruling Congress party is leading in only 49 seats.
Most TV channels and websites are running special pages to give minute-by-minute details of the result day.
The Hindustan Times' headlines reads: "Mother of all victories for Modi", along with a picture of Mr Modi meeting his mother after early results were announced.
"Mr Modi was on course to wrest the top job in the country on Friday as a saffron wave swept large swathes of India, lifting the Bharatiya Janata Party to its highest-ever tally and leaving Congress in tatters," said the paper.
The CNN-IBN website says the BJP's victory marks a new era in Indian politics.
"The BJP's landslide victory in Lok Sabha (parliament) elections has marked a new dawn for saffron politics in India," it says.
The New India Express highlights the massive nature of the ruling Congress party's defeat.
"Mr Modi appears all set to be the next Prime Minister with BJP likely to get a majority on its own, wresting power from Congress which is on the path of recording its worst ever performance in the Lok Sabha polls," it says.
The paper also talks about the defeat of several cabinet ministers.
"The Modi wave threw aside a number of Congress big guns, including 10 ministers like Sushilkumar Shinde, Sachin Pilot, Veerappa Moily, Salman Khurshid, Kapil Sibal, Ajay Maken, M M Pallam Raju and Sriprakash Jaiswal besides Speaker Meira Kumar," it adds.
'Rout for AAP'
Most papers and analysts feel the BJP managed its campaign in an impressive manner and exploited widespread disaffection against Congress.
Mr Modi led the BJP back to power after a decade in opposition, taking advantage of public anger at Congress for uncontrolled high prices, corruption scams and rising unemployment," says the Hindustan Times.
The Indian Express says Mr Modi's sustained attack on the Congress party over corruption helped him win support.
"He hurled barbs at the Congress-led government, saying it represented the 'ABCD' of corruption, referring to Adarsh, Bofors and Coal scams," it says.
The CNN-IBN website, in another piece, talks about the dismal performance of the Aam Aadmi Party (AAP or Common Man's Party), which was making its debut in this election.
"The Aam Aadmi Party, which stunned everyone by its impressive show in the Delhi Assembly elections in December 2013, has now been completely routed from the national capital," it says.
BBC Monitoring reports and analyses news from TV, radio, web and print media around the world. For more reports from BBC Monitoring, click here. You can follow BBC Monitoring on Twitter and Facebook.