Has India election shattered old orthodoxies?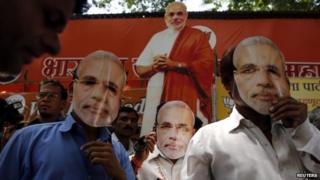 Does the resounding success of the BJP mean India's election has shattered old orthodoxies of caste and identity, as some would like to believe?
After all, some argue, Narendra Modi was able to able to attract votes cutting across caste, class and gender lines, leading to what is turning out to be a sensational win for his BJP. The party has also succeeded in picking up both urban and rural votes at a time when parties like the outgoing Congress maintained that the key to power in Delhi mainly depended on the rural vote.
BJP spokesperson Nirmala Sitharaman says she would like to believe that the results had "destroyed established paradigms of Indian politics" and changed the way we look at Indian politics.
As evidence, they rightly point to big battleground states like Uttar Pradesh and Bihar, where powerful caste and identity-based leaders like Mulayam Singh Yadav, Mayawati, and Lalu Prasad Yadav hold sway, and were expected to give Mr Modi's BJP a run for its money.
Well, the BJP is leading in 70 of the 80 seats in Uttar Pradesh - a sensational performance by any measure - and in 22 of the 38 seats in Bihar, where Mr Yadav's RJD party was expected to put up a stiff fight. (The RJD is ahead in only four seats.)
On the other hand, in Delhi, the BJP is set to record a complete sweep, winning all seven seats.
It is too early to write an epitaph for caste and identity politics in India. When the BJP and other parties chose their candidates, caste was a key qualification. Well-selected candidates, Mr Modi's dazzling campaign and anger and dissatisfaction with the ruling Congress party are being seen as the main factors that have propelled the party to a massive win.
Make no mistake. India still remains - in the words of historian Perry Anderson - a "caste-iron democracy".