Indian media: BJP's 'government strategy'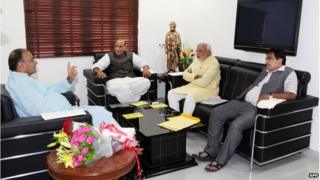 Media highlight the BJP's efforts to find suitable candidates for ministerial posts as exit polls predict a "massive win" for the party.
The opposition party's top leaders met on Wednesday to reportedly decide the future of "veteran leaders" LK Advani, Murli Manohar Joshi and other prominent members in the next government.
Most exit polls say the BJP and its allies are likely to form the next government under the leadership of Narendra Modi.
A party or a coalition needs 272 MPs to form a government. However, analysts say these polls have often been wrong in the past.
Newspapers are capturing the activities within the BJP in front-page headlines.
"BJP plans the powershift, two days in advance," reads The Indian Express headline.
The Business Standard says: "Before poll result, BJP brass in huddle mode."
Papers feel the party has a "knotty task" at hand to find an appropriate role for veteran leaders as well as balance "talent" and "egos".
"Mr Modi's immediate challenge is to select heavyweight party leaders for key cabinet assignments without ruffling any feathers, strike a balance in dividing talent between the party and government, and suitably accommodate the two veterans - Mr Advani and Mr Joshi," the Hindustan Times says.
The Times of India feels that the party leadership faces a "talent crunch" besides having to manage "egos and seniority claims".
Gandhi's 'conspicuous absence'
Meanwhile, Congress President Sonia Gandhi hosted a farewell dinner for Prime Minister Manmohan Singh on Wednesday, papers said.
However, the media are focusing on party vice-president Rahul Gandhi, who was "conspicuous by his absence" at the function.
"Respect, Rahul style: Does not attend PM's farewell," reads a front-page headline in The Indian Express.
The paper says Mr Gandhi's decision to "skip the dinner" left the party's senior leaders "fumbling for answers".
Congress leader Ajay Maken said Mr Gandhi was "out of town for two days" and had "already met the PM on May 10 to personally thank him for his services and contributions rendered to the nation", The Hindu reports.
Papers say the "mood" within the Congress at the dinner was "understandably sombre" with exit polls predicting a massive defeat for the party in the election.
And finally, the Election Commission has a "daunting task" as it gears up to release the results on Friday, reports the Hindustan Times.
Up to 551 million votes locked in 1.8 million Electronic Voting Machines will be counted at 989 counting centres across the country, it says.
Around one million people will be involved in vote counting under the supervision of half a million security personnel, the paper adds.
BBC Monitoring reports and analyses news from TV, radio, web and print media around the world. For more reports from BBC Monitoring, click here. You can follow BBC Monitoring on Twitter and Facebook.