Indian media: Voters praised as elections end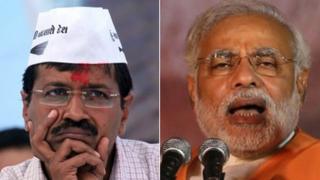 Media has praised successive high voter turnouts as the nine-phase general elections draw to a close.
The first phase was conducted on 7 April, and the last is being held on 41 seats in the states of Uttar Pradesh, Bihar and West Bengal on Monday.
Vote counting is due on 16 May.
"In the first eight phases, 66.2% of registered voters have exercised their right to vote. That compares with the previous best turnout of 64% during the 1984-85 parliamentary election," the Hindustan Times says.
The paper adds that the overall voter turnout may touch 65%.
The Indian Express points out that "voter turnouts had failed to touch even 60%" in the last three general elections.
The paper adds that "larger states such as Orissa, Kerala, Tamil Nadu, Andhra Pradesh, Chhattisgarh, Karnataka, Jharkhand, Gujarat and Rajasthan" witnessed unprecedented turnouts this year.
The paper, however, says that hot weather conditions may impact voter turnout on Monday.
"Given the heat-wave that has gripped parts of Uttar Pradesh and Bihar, there is a fear that a poor show on Monday could pull down the cumulative turnout rate," the paper says.
Newspapers are also highlighting the showdown between Narendra Modi, the prime ministerial candidate for the main opposition the Bharatiya Janta Party (BJP), and the Aam Aadmi Party leader Arvind Kejriwal in Varanasi.
The two leaders are contesting against each other from the holy city in the northern Indian state of Uttar Pradesh.
Papers are highlighting the contest in interesting headlines.
The Times of India's headline reads: "2014 election potboiler heads for grand climax in Varanasi".
"Modi vs Kejri on last day of battle," says the Hindustan Times' headline.
"After 35 days of marathon polling and frenzied campaigning, the great Indian election closes on Monday with the biggest battle of them all - Mr Modi versus Mr Kejriwal in the holy city of Varanasi," the paper adds.
And finally, seven policemen have died in an attack carried out by Maoist rebels in the western state of Maharashtra, The Indian Express reports.
"The blast happened between 9 and 10 am (local time) on Monday in Gadchiroli district when a police vehicle was hit by a powerful IED (improvised explosive device) explosion," the paper quotes a senior police official as saying.
BBC Monitoring reports and analyses news from TV, radio, web and print media around the world. For more reports from BBC Monitoring, click here. You can follow BBC Monitoring on Twitter and Facebook.