India election: Arvind Kejriwal holds 'road show' in Varanasi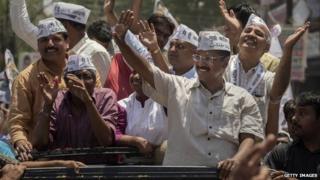 Arvind Kejriwal, the leader of India's new anti-corruption Aam Aadmi (Common Man) party, is leading a rally through the streets of Varanasi city.
Mr Kejriwal is contesting the Varanasi seat in the general election and is pitched against the main opposition BJP's leader Narendra Modi.
On Thursday, Mr Modi drove through the temple city with a large number of supporters after the authorities denied him permission to hold a rally there.
Voting is due in the city on Monday.
The nine-phase marathon election, which began on 7 April, concludes on 12 May. Counting of the votes is due on 16 May.
India's election, with 814 million eligible voters, is the world's biggest exercise in democracy and the governing Congress party is battling the Bharatiya Janata Party (BJP) for power. Mr Modi is ahead in all the opinion polls.
Mr Kejriwal began the rally in the rural parts of Varanasi constituency a few hours ago, BBC Hindi's Nitin Srivastava reports from Varanasi.
There are huge traffic jams around the gate of Benares Hindu University where Mr Kejriwal is expected late on Friday afternoon, our correspondent reports.
Officials have imposed tight security as supporters of the main opposition BJP and some of the ruling Congress party could be seen waving flags on the roads where Mr Kejriwal's convoy would pass, he added.
Mr Kejriwal has been campaigning in the city for nearly a month now and a similar event there last month, when he filed his nomination papers, attracted a large crowd.
On Thursday, Mr Modi's street rally brought the city to a halt, choking its narrow lanes and by-lanes.
His party workers also held a protest outside the Benaras Hindu University campus, accusing the Election Commission of being partisan for denying Mr Modi permission to hold a rally at a venue of his choice.
The Election Commission has rejected accusations of bias - it said the denial was purely due to security concerns.
It said Mr Modi had been given permission for two other events in Varanasi but security issues raised by the state government could not be overlooked.