Indian election: Narendra Modi criticises Priyanka Gandhi remarks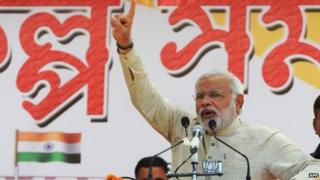 Narendra Modi, the leader of India's main opposition BJP, has criticised Priyanka Gandhi, the sister of Congress party leader Rahul Gandhi, for saying that the BJP was "indulging in low level politics".
"I belong to a lower caste of society that's why they think my politics is low-level politics," Mr Modi tweeted.
Mr Modi, the son of a tea seller, is from a disadvantaged caste.
On Monday, Mr Modi spoke at a rare rally in Amethi, Mr Gandhi's seat.
He attacked their record in the area as well as what he said was their condescension to the BJP candidate.
On Monday, Mr Modi told the meeting in Amethi that the late former prime minister Rajiv Gandhi - Rahul and Priyanka Gandhi's father - had once "abused and humiliated" a former chief minister of a southern state at an airport.
Hours later, Priyanka Gandhi reacted by saying Mr Modi had "insulted my martyred father on the soil of Amethi".
"People of Amethi will never forgive them for this act. Workers in Amethi will reply to their low-level politics. There will be reply from each of the booths," she said.
Mr Modi hit back on Tuesday morning, accusing Ms Gandhi of indulging in caste politics and tweeted: "This low-level politics [that Ms Gandhi talks about] will rescue our country from 60 years of misrule and vote-bank politics, and wipe the tears of millions."
The campaign for the ongoing general election has seen acrimonious exchanges between Mr Modi and the Gandhi family.
Priyanka Gandhi has been campaigning in the Amethi area and has expressed fierce criticisms of Mr Modi and the BJP.
Although the BJP is expected to do well nationally, Mr Gandhi is defending a massive majority in Amethi. He won over 70% of the vote there in 2009 - the BJP candidate came third with less than 10%.
Uttar Pradesh, the state where Amethi is located, returns more MPs than any other and is often described as India's battleground state.
The marathon general election, which began on 7 April, will conclude on 12 May. Votes will be counted on 16 May.