Indian media: Fierce poll battle in Amethi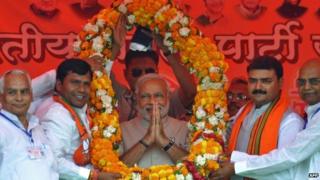 Media say Narendra Modi, the PM candidate of India's main opposition BJP, has taken the 2014 poll battle to the Gandhi-Nehru bastion of Amethi with his "massive rally" on Monday.
Amethi has long been known as the "home constituency" of the Gandhi-Nehru dynasty which has dominated Indian politics for decades.
Mr Modi on Monday addressed a rally in the northern town to gather support for his party's candidate, former television actress Smriti Irani.
Ms Irani is contesting against Congress vice-president Rahul Gandhi, who has won from the constituency in the past two general elections.
Although the BJP is expected to do well nationally, Mr Gandhi is defending a massive majority in Amethi. He won over 70% of the vote there in 2009 - the BJP candidate came third with less than 10%.
Mr Gandhi's mother Sonia had previously represented the constituency, as did his father Rajiv, who was prime minister from 1984 to 1989.
Most newspapers feel Mr Modi has broken an "unwritten code" by making a foray into the stronghold of a top rival leader.
A front-page headline in the Hindustan Times reads: "Fierce Modi storm hits Amethi, Gandhis attacked in their bastion".
"Breaking the unwritten code of top leaders steering clear of one another's turfs, the BJP's PM candidate on Monday took the battle to the Nehru-Gandhi family in their bastion, Amethi," the paper says.
The Times of India too captures the political battle in its headline: "Modi goes behind enemy lines".
"Political observers saw Mr Modi's cut and thrust as an outright attempt to drum up maximum support for Ms Irani, a key member of his team… even if it loses Amethi while managing to reduce Rahul's victory margin, it would gain from the perception that it has eroded the Gandhis' support base," the paper says.
"Modi takes battle to Gandhi den," reads a front-page headline in The Indian Express.
Meanwhile, Rahul Gandhi's sister, Priyanka, has criticised Mr Modi's campaign in Amethi, the Hindustan Times reports
Ms Gandhi said that the voters of Amethi will give a "befitting reply" to the BJP's politics.
"My [polling] booth workers will give a befitting reply to the low level of their politics. This reply will come from each and every booth of Amethi," the paper quoted her as saying.
Rain respite
And finally, rains and high-speed winds on Monday brought some respite for Delhi residents after a week that saw temperature rise above 40C, reports say.
However, many trees were uprooted in the "storm", The Times of India reported.
"The storm accompanying the rain uprooted trees in central Delhi, blocking some arterial roads," the paper added.
BBC Monitoring reports and analyses news from TV, radio, web and print media around the world. For more reports from BBC Monitoring, click here. You can follow BBC Monitoring on Twitter and Facebook.