Lalit Modi: Banned IPL cricket boss voted regional cricket chief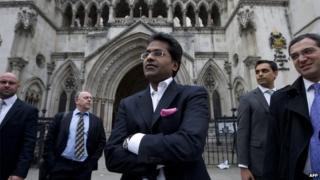 Former Indian Premier League (IPL) commissioner Lalit Modi has been elected the chief of a regional cricket association in India's Rajasthan state.
Last year, he was banned for life by India's cricket board for "indiscipline and misconduct". He denies any wrongdoing and is fighting the ban.
It is unclear whether the board will challenge his appointment in court.
Mr Modi was instrumental in founding the IPL, which has become a multi-billion-dollar industry.
The election for the head of the Rajasthan Cricket Association was held in January under the supervision of a former Supreme Court judge. But the results were delayed because of a raft of legal cases involving the polls.
On Tuesday, a court-appointed observer announced Mr Modi's win.
Reports said Mr Modi was able to participate in the Rajasthan polls because of a "loophole" that the Rajasthan Cricket Association is governed by a separate local law.
The main accusations against Mr Modi related to rigging bids during the auction of two new franchises in 2010. He was also accused of selling broadcasting and internet rights without authorisation.
The IPL is the best-paid of the world's Twenty20 cricket leagues, with top Indian and international players taking part each spring.
As well as being the public face of the IPL, until his removal in 2010 Modi had also been one of five vice-presidents of the Board of Control for Cricket in India (BCCI) and chairman of the Champions League Twenty20, a club tournament organised jointly by India, Australia and South Africa.