Indian media: Modi in 'trouble' after poll watchdog's notice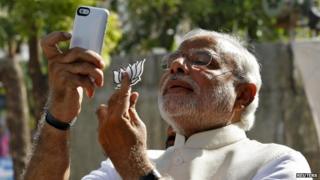 The main opposition Bharatiya Janata Party's (BJP) prime ministerial candidate, Narendra Modi, is in "trouble" because of his alleged violation of election laws, papers say.
The Election Commission (EC) says Mr Modi violated election laws by flashing his party's symbol (lotus) and making a political speech in Ahmedabad on Wednesday when voting was in progress, reports say.
Mr Modi addressed the media after casting his vote and later posted a "selfie" of his inked finger along with his party's symbol on Twitter.
Election laws ban public meetings 48 hours before polling ends and prohibit politicians from displaying any election-related material during that time.
A violation of any of these provisions is punishable with a jail term of up to two years or fine or both.
A spokesperson for the BJP said Mr Modi had done nothing wrong and that the party would respond to the Election Commission's notice.
Newspapers are capturing the story in front-page headlines along with photographs of Mr Modi clicking a "selfie".
"Modi selfie spells trouble," says The Hindu's headline.
"Narendra Modi's selfie of his ink-marked finger holding a miniature lotus cut-out may have been among the top trending items on Twitter but it also resulted in two complaints against the BJP prime ministerial candidate," says the Hindustan Times.
Senior lawyer Dushyant Dave says Mr Modi "definitely displayed the symbol of the party only to influence the voters".
"Across the political spectrum there is complete violation of model code of conduct because politicians do not care for institutions… Mr Modi knew exactly what the law is. He doesn't care for institution and he has displayed that to the nation," the First Post website quotes him as saying.
'Embarrassed' minister
Meanwhile, papers are welcoming a high voter turnout in the seventh phase of polls on Wednesday, despite a severe heat-wave in many parts of the country.
Newspaper headlines are reflecting the sentiment through front-page headlines.
"Voters defy heat, impressive turnout in seventh phase," reads the Deccan Herald's headline.
And finally, federal minister K Chiranjeevi was left embarrassed when a voter criticised him for breaking the queue at a polling station in the southern city of Hyderabad on Wednesday, reports The Hindu.
A London-based IT professional stopped the minister from jumping the queue since other voters had been waiting in line for a long time.
"I felt it was not fair because I am also a resident and he was also a resident," Raja Karthik said.
The minister ultimately stood in the queue and cast his vote, the paper added.
BBC Monitoring reports and analyses news from TV, radio, web and print media around the world. For more reports from BBC Monitoring, click here. You can follow BBC Monitoring on Twitter and Facebook.