Narendra Modi's clever election pitch in Gujarat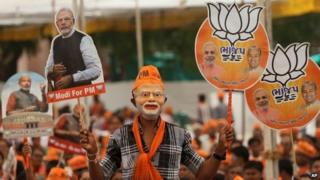 "Do you want an MP, or do you want a PM?"
Narendra Modi, the man many expect will be India's next prime minister, is addressing a crowd of supporters in Gujarat's Sabarkantha district, as he winds up his campaign in the western state which goes to the polls on Wednesday.
"If you want an MP, vote for the Congress, if you want a PM vote for the BJP."
It's a clever pitch. Thousands of supporters, wearing masks, caps and scarves sporting Mr Modi's face in the sweltering heat, go delirious.
"We want you, and we want you as PM," they shout. It is clear that this time they are rooting for Mr Modi as the PM at the head of the BJP-led government in Delhi when votes are counted on 16 May.
A vote for the BJP is a vote for Mr Modi. Nobody really appears to care or talk about the local BJP candidate. "I don't even know his name," a supporter admits sheepishly.
In a dozen or so public meetings before winding up his campaign in Gujarat, Mr Modi is mostly preaching to the converted.
I have been travelling in the state for the past few days and have found scarce evidence of an election fever or a wave of support in favour of Mr Modi and his party. It's business as usual.
The lack of a strong opposition - despite some feisty early campaigning by the anti-corruption Aam Aadmi Party - means the results are a foregone conclusion in the state. Gujarat is a BJP bastion, and Mr Modi has led the government here uninterruptedly for 12 years.
In 2012, the party registered its fifth consecutive - and third under Mr Modi - win in the state polls. The party had been doing well even before Mr Modi took charge.
The BJP is expected to improve its tally this time - it won 15 of Gujarat's 26 parliamentary seats in 2009 and opinion polls predict at least 20 seats.
"But this time," says a voter I met at Sabarkantha, "it is more than the BJP winning again in Gujarat. It is about sending Mr Modi to Delhi as the prime minister."
It is all about fulfilling what many here call the Gujarati asmita (pride).
"If your son is sitting in Delhi, you don't have to worry about anything else here," Mr Modi tells the crowd at Sabarkantha.
What makes Mr Modi rise above the party and dominate the political landscape? His believers - and there are plenty of them here - talk about his hard work, administrative acumen, oratory, his unapologetic nationalism, even a sharp sartorial sense.
His detractors continue to insist that he's a deeply divisive leader who did little to stop the riots in 2002 under his watch and thrives on exaggerated claims.
But, in his lair, do people really worship Mr Modi? Is there really a cult of the Great Leader, of a messiah who can do no wrong?
I will be dealing with these questions in a longer piece from Gujarat which will be published soon. Watch this space.