Minor fire in Indian PM's office doused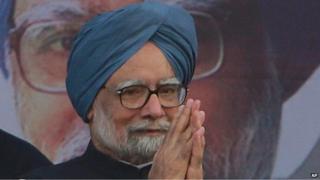 A minor fire which broke out in the prime minister's office in the Indian capital, Delhi, has been put out, the fire department has said.
Smoke was detected near the South Block building in central Delhi on Tuesday morning. PM Manmohan Singh was not in office at the time.
Six fire tenders were sent to the area and the fire was brought under control within minutes, officials said.
The fire was caused by a short-circuit in a computer, the PM's office said.
There was no damage or injury, he added.
"It was a small fire in a room on the ground floor of the PMO [prime minister's office]. We received the call at about 06:25am [00:55GMT]," Press Trust of India quoted director of Delhi Fire Service AK Sharma as saying.
"Fire tenders were rushed to the spot. It was brought under control within minutes."