Last campaign for India's oldest candidate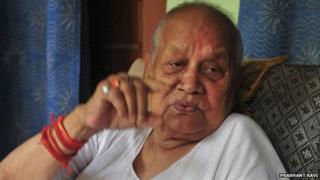 Ram Sundar Das is one of India's oldest candidates in the ongoing general election. Amarnath Tewary in Patna meets the 93-year-old veteran who refuses to call it a day despite his failing health.
At 9am everyday, a maroon car arrives at the home of Mr Das, the ruling regional Janata Dal (United) party's candidate from Hajipur constituency in the northern state of Bihar.
The car brings a barber who comes to shave Mr Das because it's something the nonagenarian cannot do himself.
Mr Das also has trouble walking and sometimes even speaking.
Born on 9 January 1921, Mr Das could now be on the verge of becoming the oldest MP in India. In the last parliament that distinction went to Rishang Keishing, who is 94, but he retired recently as India's and the world's oldest MP.
On 16 April, when Mr Das went to address a public rally after filing his nomination papers, he had to be physically carried by two attendants to the dais.
Polling is scheduled to be held in Hajipur on 7 May, but Mr Das has visited his constituency only a handful of times for campaigning.
I ask Mr Das why he is contesting elections at such advanced age.
"Who says I'm unable to walk or talk? I will remain in politics until I breathe my last and continue to serve my people," he says.
Frail health
Mr Das entered politics in 1945, even before India became an independent country. For a brief 10 months, from April 1979 to February 1980, he was also Bihar's chief minister.
He has won the regional assembly elections twice and has also been a two-time MP.
Known to be an upright and honest politician, he lives in his modest two-storey home and has assets worth 3m rupees ($49,000; £29,000) and owns an old Ambassador car, according to his election affidavit.
But, how can he serve his constituency when he is not in good health?
"Who says I'm ailing? I was the country's number one MP in terms of utilising the MP development fund," he says, but fumbles when I ask him to name some of the development schemes he undertook.
Mr Das, who has undergone two heart surgeries in the past, collapsed last October while attending his party's two-day convention in Rajgir.
Bihar Chief Minister Nitish Kumar who was present at the convention called an ambulance and Mr Das was taken to hospital in Patna. Later, he was moved to Delhi for treatment.
While talking to the BBC at his home, there were times when he lost track of what he was saying.
"This has become my situation today… I forget things often," he admits. "Earlier, I used to practice yoga and meditation, but have lost touch with them now."
'Hang his boots'
When I visited him, Mr Das was due to go campaigning in his constituency, but two hours later, he cancelled his schedule, complaining of traffic congestion and simmering heat.
I ask him if he has ever thought of retiring from politics?
"I did not want to contest during the last election in 2009 but the chief minister wanted me to contest. This time too, I was reluctant to enter into the fray, but Mr Kumar and my voters insisted that I contested," he says.
"But this will be my last election, for sure."
Many who voted for Mr Das in the previous election also say it's time for him to hang his boots.
"Last time we voted for him because we wanted to defeat [the Lok Janshakti Party's] Ram Vilas Paswan and vote for the candidate of the Bihar chief minister," says Ramnaresh Chaurasia. "But he failed to deliver because he is so old and can't even walk properly."
"Das is known to be a socialist and an honest person, so we voted for him in the 2009 election, but he disappointed us after wining," adds bank official Chandra Shekhar Singh.
"He should retire from politics now. Even if he wins, what good will he do us at this advanced age?".