Indian artist MF Husain's last works to be shown at V&A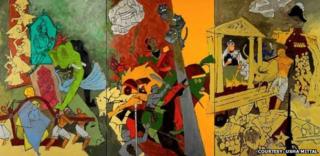 The final nine paintings made by one of India's most famous artists, MF Husain, will be shown in public for the first time this summer.
The Indian Civilisation series would be on display at London's Victoria and Albert museum from 28 May to 27 July, auction house Christie's said.
Maqbool Fida Husain died in June 2011 in hospital in London aged 95 after years of self-imposed exile.
He was India's most prized, and perhaps most controversial, painter.
Husain painted the series from 2008 until days before his death.
Eight of the works are triptychs - each measuring 12 feet wide by six feet high - and show India's vibrant cities, colourful Hindu festivals, iconic figures and historic events.
The ninth artwork is a single painting of the Hindu god, Ganesha.
The paintings were commissioned by the family of Indian business tycoon Lakshmi Mittal, who lives in London. The exhibition is supported by Christie's.
Husain was often called the "Picasso of India" and influenced a whole generation of artists in the country. His works often sold for millions of dollars.
His paintings of nude Hindu goddesses angered hardline Hindus who accused him of obscenity. He left India in 2006 and took up Qatari nationality in 2010.
Husain also made two Bollywood films, although both failed at the box office.