India BJP complaint over Ayodhya mosque demolition report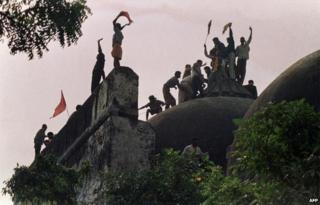 India's main opposition BJP has complained to the election authorities about a report by an investigative website on the tearing down of a mosque in the holy town of Ayodhya in 1992.
The report claims the demolition of the mosque by Hindu extremists was planned by groups with links to the BJP.
The incident led to widespread rioting in which some 2,000 people died.
It was one of the worst cases of religious violence since the partition of India in 1947.
Hindus claim the site of the 16th Century Babri Masjid (mosque) is the birthplace of their deity, Ram, and want to build a temple there.
The Hindu nationalist Bharatiya Janata Party has questioned the timing of Friday's report on the Cobrapost website ahead of the nine-phase general election beginning on Monday.
"We have written to the Election Commission. More than the content, the timing is important," BJP spokesperson Mukhtar Abbas Naqvi told reporters.
BJP MP R Ramakrishna said the report appeared to be "politically motivated and [a] meticulously planned operation to polarise the ongoing elections".
Cobrapost said in a press release that the tearing down of the mosque on 6 December 1992 was an "act of planned sabotage" by the radical Hindu groups Vishwa Hindu Parishad and Shiv Sena, who have links to the BJP.
The statement said the website had interviewed "23 leaders" who were "involved in the demolition" of the mosque and had established "beyond doubt that the demolition was not an act of frenzied mobs but an act of sabotage by these agents saboteurs, planned with so much secrecy that no government agency got a wind of it".
The website claims that a number of Indian leaders, including the late former prime minister of the Congress party-led government PV Narasimha Rao and the former BJP chief minister of Uttar Pradesh state, Kalyan Singh, were aware of the "plot".
The two Hindu groups and Mr Singh have not yet commented on the report.