Devinder Pal Singh Bhullar: India court commutes sentence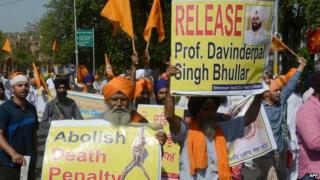 India's top court has commuted the sentence of death row prisoner Devinder Pal Singh Bhullar to life in jail.
Bhullar had been convicted over a 1993 bomb blast in Delhi which killed nine. He has been on death row since 2001.
The court accepted his wife's plea that there had been "an inordinate delay" in deciding his mercy plea and also on grounds that he was mentally ill.
The court has commuted sentences of 18 death row prisoners on grounds of delay since the beginning of the year.
Bhullar's mercy plea, filed in 2002, was rejected by the president in 2011.
His chances brightened in January after the court commuted death sentences of 15 prisoners on the grounds that it had taken too long for a decision to be reached in the plea for clemency. The court added that mental illness and solitary confinement could also be reasons for commuting sentences.
Bhullar's lawyers approached the court again after the decision.
In February, the Supreme Court also commuted the death sentences of three men convicted of plotting the 1991 assassination of former prime minister Rajiv Gandhi on similar grounds.
Last week, the Indian government told the court that it had "no problems" if Bhullar's sentence was commuted.
India has more than 400 convicts on death row.
Executions are rarely carried out, but in the last two years there have been two hangings in India.
Mohammed Ajmal Qasab, the sole surviving attacker from the 2008 Mumbai attacks, was executed in November 2012 in a prison in the western city of Pune.
And in February 2013, a Kashmiri man, Afzal Guru, was hanged in Delhi's Tihar jail for the 2001 attack on India's parliament.